IDR Blog
A lend-lease charter with the US will bolster India's Maritime Security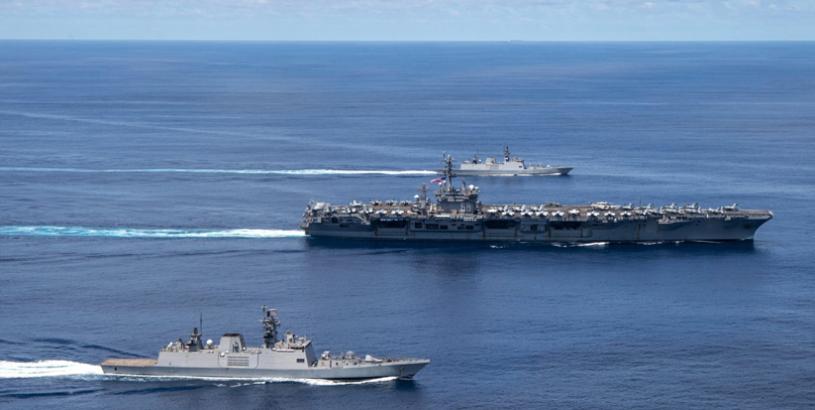 The India-China military standoff at the troubled LAC (Line of Actual Control) continues to simmer and the Tokyo Quad meeting of foreign ministers remains a work in progress. Historically, India has avoided alliances as it followed non-alignment and now follows strategic autonomy. However, India must now think of how to bolster its maritime security as the PLA Navy is making inroads into India's parish.
An alliance with the USA will sour India's close bonds with Russia, which are tied with India's nuclear power projects, sizeable military inventory and construction of nuclear submarines. This writer tables a case for India to study the Atlantic Charter which then British PM Winston Churchill consummated with US President Theodore Roosevelt on USS Agusta in 1941, and to sign an Indo-US Charter with lend-lease clauses to induct platforms to manage China's moves in the Indian Ocean with Pakistan, given that India and USA have a correspondence of interests in the Indo Pacific.
China is consolidating China Pakistan Economic Corridor(CPEC) with projects in Pakistan Occupied Kashmir (POK) and supplying warships and submarines to the Pakistan Navy. The US Secretary of State Mike Pompeo has stated that India cannot face China alone and deserves consideration. Much was expected from the Quad foreign ministers meeting held in Tokyo on October 6. Only US Secretary of State Pompeo rallied against Beijing and named China's CCP as a rule breaker. Japan's Toshimitsu Motegi and Australia's Marise Payne echoed the need for a free and open Indo-Pacific without highlighting that China's claims in the South China Seas are ultra-vires. Indian External Affairs Minister S Jaishankar did not raise China's aggressive moves into India's territory in Ladakh, which has tied down large Indian troops to hold ground through a cold harsh winter. Jaishankar stressed the need for Quad cooperation in infrastructure, cyber and health, with the Covid pandemic in view.
India has no National Security Strategy
India's military is handicapped as it is not in the policy-making loop but bears the brunt of actions by neighbours and gets surprised. China encroached into Ladakh along the LAC (Line of Actual Control) in early May but it was missed by intelligence agencies. India's IPS manned and IPS led intelligence is a bureaucratic setup and in the current case, the PLA's creep into Ladakh was noticed by Indo Tibetan Border Police (ITBP) which guards the LAC with over 180 posts and some Intelligence Bureau (IB) personnel, but the dots were not connected with satellite imagery. The Army posts are in the rear, a legacy of 1961, when then PM Jawaharlal Nehru asked IB director BM Mullick to set up forward IB posts, as the latter records in his memoirs.
India does not issue a comprehensive White Paper on defence or a National Security Strategy for directions; so India's armed forces have to rely on a Defence Minister's directive issued from time to time. India's Navy is a maritime pivot in the region and is capable, but has limited platforms. After PLA's incursion into Doklam in 2017, the Indian Navy's (IN) allocation was slashed to 13% from 18% of the defence budget. The IN will need maritime partners in the Asia Pacific to credibly exploit China's Malacca dilemma if push comes to shove. The Andaman Islands offer India an outer island chain and Japan has offered to extend its seabed Fish Hook sonar systems to detect submarines.
China's military moves are attributable to the chicanery of Chinese strategist Zhuge Liang's '36 Stratagems of War.' Jaishankar in his just-released book 'The India Way' quotes Zhuge, "The wise win before the fight, while the ignorant fight to win". China's Staff Colleges teach Sun Tzu's Art of War (544-496 BC) as the philosophy of statecraft and war, and Zhuge's (181-234) stratagems as the Principles of War. Malaysian Prime Ministers Mahathir and Singapore's leader Lee Kuan Yew kept copies in their offices, it is reported.
Indo-US Charter
The India-US bilateral relationship advanced after President Barack Obama released the Joint Strategic Vision for Asia-Pacific and Indian Ocean Region with Prime Minister Narendra Modi in New Delhi on 25th January 2015. The US Congress designated India as a major defence partner and both countries commenced a bilateral maritime security dialogue. US-India defence trade has surged from $1 billion to over $20 billion from 2008 and the Trump administration has maintained an upward trajectory. At the personal level, US President Donald Trump hosted a 'Howdy Modi' event in Houston, in September 2019 with a reciprocal visit for the US leader in Ahmedabad earlier in 2020.
The IN has exercised in the Malabar series since 1993 and the Pentagon loans the Combined Enterprise Regional Information Exchange System(CENTRIX) internet modem boxes, and US Sea Riders embark IN ships for the exercises. After the Logistic Exchange Memorandum of Agreement (LEMOA) both navies provide mutual logistical support. Recently a US Navy Poseidon P8A aircraft fueled at Port Blair. After India signing COMCASA last year, information sharing and provision of US communication equipment have advanced and the Pentagon now provides uninterrupted CENTRIX access to NHQ and major ships to view the Indo Pacific plot. It is a force multiplier and the Basic Exchange Co-operation Agreement (BECA) for geospatial intelligence sharing is awaited.
During the 1962 war Prime Minister Jawaharlal Nehru reached out to President John F Kennedy, and in 1971 then PM Indira Gandhi signed a peace treaty with the then Soviet Union that paid dividends to liberate Bangladesh. This has been described in detail by T V Rajeshwar in, 'India-The Crucial Years'. Exploring a similar arrangement with Washington will enable Delhi to better manage Beijing's belligerence. An Indo-US Charter with a lend-lease clause on the lines of the Atlantic Charter in 1941 is the need of the hour. It then helped Britain to meet Hitler's aggressiveness before the USA formally entered World War 11.
This bilateral initiative can be India's proverbial silver bullet to face the challenges posed by the China-Pakistan nexus.
Courtesy: https://southasiamonitor.org/spotlight/lend-lease-charter-us-will-bolster-indias-maritime-security
Rate this Article
Post your Comment