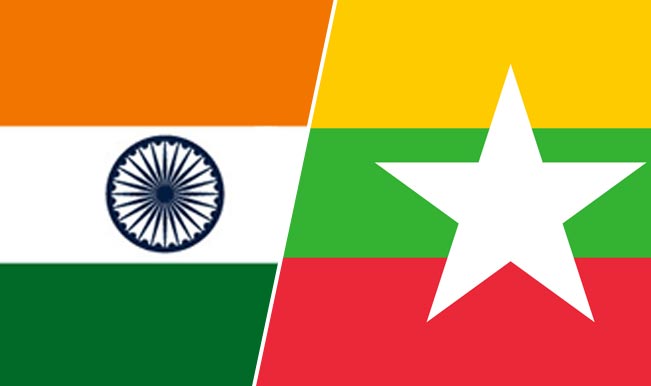 Foreign Secretary Harsh Vardhan Shringla is on a two-day visit to Myanmar on December 22-23. It may be recalled that after the military takeover in Myanmar on February 1, 2021, the Ministry of External Affairs (MEA) had issued a statement that read, "We have noted the developments in Myanmar with deep concern. India has always been steadfast in its support to the process of democratic transition in Myanmar. We believe that the rule of law and the democratic process must be upheld. We are monitoring the situation closely."
On August 1, 2021, Myanmar's military ruler General Min Aung Hlaing assumed the title of Prime Minister of a newly formed Caretaker Government six months after the army seized power from a civilian government. The Caretaker Government replaced the State Administration Council (SAC) that ran Myanmar since it was formed after the military coup. Myanmar's Myawaddy television reported on August 1: "In order to perform the country's duties fast, easily and effectively, the state administration council has been reformed as caretaker government of Myanmar."
Earlier this month, India had said it is "disturbed at the recent verdicts" announced against Aung Sang Suu Kyi and others in Myanmar and called for uphold of "rule of law and the democratic process". Suu Kyi was earlier this month jailed for four years for incitement against the military and breaching Covid restrictions. However, the military junta chief Min Aung Hlaing later commuted the term to two years and said she would serve her sentence under house arrest in Naypyidaw.
With respect to Shringla's visit to Myanmar, the MEA statement has said, "During the visit, Foreign Secretary Shringla will hold discussions with the State Administration Council, political parties and members of civil society. He will discuss issues relating to humanitarian support to Myanmar, security and India-Myanmar border concerns, and the political situation in Myanmar." The State Administration Council is made up of military junta and is chaired by General Min Aung Hlaing who led the coup on February 1 this year and later took over as Myanmar's prime minister in August.
As is evident and also commented in the media, Shringla's visit has been prompted by the security situation in our northeast as well as in Myanmar. To this end, his visit could have been along with the Army Chief General Manoj Mukund Naravane as in October 2020, given the increased security concerns along our eastern borders, which can be surmised as under:
Influx of refugees from Myanmar into India, especially of Chins in Mizoram due to the military coup in Myanmar.
Terrorist attack in Manipur on November 13 killing five soldiers including Colonel Viplav Tripathi, CO 46 Assam Rifles, his wife and 6-year old son. Terrorists from the People's Liberation Army (PLA) and Manipur Naga People's Front (MNPF) responsible for the ambush thereafter retreated to their camps in Myanmar.
Violence in Mon district of Nagaland on December 4-5 which could have been engineered by deliberately feeding wrong information to the Army by local police though a Special Investigation Team (SIT) has been formed to investigate the incidents and Army is conducting its own inquiry. However, the report of the SIT will likely be coloured with political overtones.
Resolution adopted by the 60-member Nagaland Assembly on December 20, 2021 for repealing the Armed Forces Special Powers Act (AFSPA) from Nagaland and elsewhere in the northeast. This would be playing into the hands of China and could have been prompted by Beijing, given its norm of 'buying' politicians, organizations and media to further its national interests.
China's increasingly aggressive stance along the Line of Actual Control (LAC) and its illegal claim to Arunachal Pradesh plus Chinese scholars periodically warning that China can destabilize our northeast.
Terror threat to the Kaladan Multimodal Project, particularly from the China-Pakistan supported Arakan Rohingya Salvation Army (ARSA).
Increasing Chinese footprints in Myanmar; including with the China-Myanmar Economic Corridor (CMEC) and Kyaukphyu deep sea port on lines of the China-Pakistan Economic Corridor (CPEC) and Gwadar port in Pakistan.
Shringla has gifted one million doses of Indian made vaccines for combating the pandemic to Myanmar's Red Cross. This is a good gesture and in addition to 2.6 million vaccines India had earlier gifted to Myanmar.
With its strategic location, Myanmar is crucial to India for our Act East Policy (AEP), border management and the Kaladan Multimodal Project. The security dimension is gaining importance increasingly and it would be good if Shringla's visit is followed up by a visit by the Defence Minister who could be accompanied by the Army Chief or the Chief of Defence Staff (CDS). Regrettably, the last time an Indian Defence Minister visited Myanmar was in January 2013 – almost nine years ago. Doesn't really fit into our 'Neighbours First' policy.
We need to acknowledge that in line with governments around the world holding on to power as long as possible, the present regime in Myanmar is unlikely to change overnight. The ASEAN has conveyed its 5-point agenda to Myanmar, appointed a special representative and excluded Min Aung Hlaing from its last summit held October 2021.
Sanctions by the US and others are pushing Myanmar into China's strategic sphere which is not in India's interest. Similarly, America's recent sanctions against Bangladesh are not in India's national interests. Neither the US, nor any of its allies share a border with Myanmar and have the same strategic and security vis-à-vis Myanmar as India.
Addressing Indian concerns, as mentioned above, is essential but it would be naïve to trumpet too much on the democracy bit. Is China a democracy? Have we not been in dialogue with China before and even after its aggression in Eastern Ladakh last year? Are we going to shun China after Wang Yi smugly says that India and China effectively managed and controlled frictions in Eastern Ladakh; highlighting land grabs as his achievements? Did we not invite the Pakistani NSA for a recent summit on Afghanistan despite Pakistan's continued proxy war?
Same goes for calls about human rights. Have we raised human rights issues with China concerning its genocide in Xinjiang, Tibet, Hong Kong and support to Pakistani genocide in Balochistan? Do we appreciate Eric Garcetti, US Ambassador-designate to India wallowing about human rights issues in India and saying he would be directly talking to civil rights groups? We need to put our national interest first, not champion exclusive idealism in foreign policy. Our diplomats sitting in their cubicles need to peek out of the well and read the geostrategic dynamics. Did we have to wait for the security situation in the northeast to deteriorate for the foreign secretary to visit Myanmar?
Former ambassador RS Kalaha wrote in his book 'The Dynamics of Preventive Diplomacy': "It is often said that idealism has no place in making of foreign policy. But the argument is not that idealism should not be a stand-alone factor, but that the costs of always following an inward looking policy may be that much higher. Therefore, the most effective foreign policy for any country, whatever its weight, is one that balances realism and idealism – that in effect makes idealism realistic."
Finally, there is much in the media about new Quads being formed, India to encourage Israel-Palestine dialogue, Australia and Japan should open dialogue with Myanmar and the like. But India could seriously look at forming a Quad consisting of India, Russia, Myanmar and Thailand that would accelerate India's Act East Policy.
As importantly, we need to revive military-to-military contacts, joint exercises, joint operations with Myanmar, and streamline the border management. India has a reciprocal arrangement with Nepal for according the Honorary Rank of General to each other's Army Chief. One wonders while India and Myanmar signed a Treaty of Friendship in 1951, why did India not have such a reciprocal arrangement with Myanmar given that Buddhism in Myanmar should be treated part of India's strategic depth.
Rate this Article