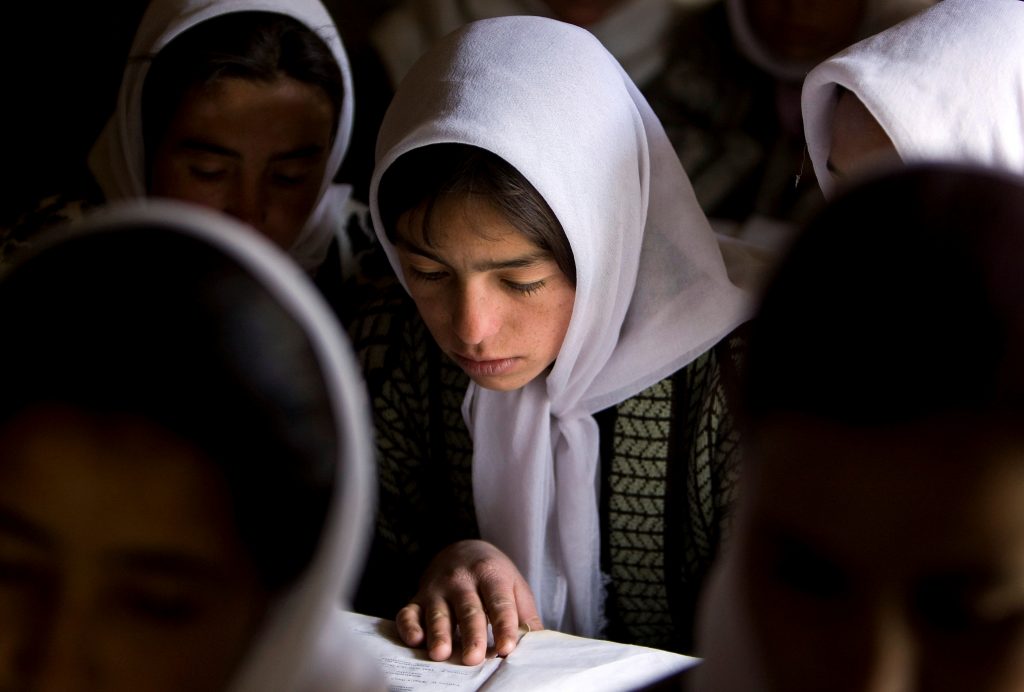 Taliban must not impede Girl's Education- No justification for this Discrimination
'Let Afghan Girls Learn'- an amplifying slogan- voiced in many forums, social media and discussions to advocate the continuity of girls' education in Afghanistan. Their voices are more important than ever, at a time when Afghan women and girls struggle to secure their basic rights and fundamental freedom which is sliding ever deeper into catastrophe since the Taliban's hard-line ubiquitous diktat are on the rise across Afghanistan for the past year of their rule.
The governments of most countries of the world today have adopted gender equality with reformed policies to implement in which men and women proclaim that commitment to gender equality, however, in Afghanistan women have been denied their rights to education, employment and equal justice by the Taliban.
The prosperity of any nation depends on the full integration and participation of women in development. Yet, knowing this fact, Afghanistan's centuries of patriarchy and gender discrimination have left a damaging legacy as the country struggled with over 4.2 million children out of school; 60 per cent of whom were girls. The United Nations Development Program's 2020 annual reports show that Afghanistan is ranked 169th in women's education, one of the lowest in the world, yet, the fact, the country had made significant achievements in education during the reign of King Amanullah Khan, the first girls' schools were opened in 1921. Notwithstanding this progress, today, in Afghanistan, women's marginalization, lack of access to health and education services, and economic disempowerment continue to be both a cause and an effect of the Taliban's inept mindset.
On 23 August 2021, the Taliban's Education Commission announced the closure of all schools following their takeover of the country. Despite initial ambiguity and assurances provided by the Taliban that primary schools would reopen on 28 August, they indicated that secondary schools would resume at a later date still to be determined.
In December 2021, acting Deputy Education Minister Abdul Hakim Hemat said in a BBC interview, "The girls will not be allowed to attend school until a new education policy is approved in the New Year," without delving into the details of what that would mean for the crystallization of new reforms in their education policy. There is a significant gap between what the Taliban say and do.
The resumption of girls' education seems to be in limbo and now despite international condemnation, the Taliban has not shown any leniency or efforts being made and no meaningful steps have been taken to reopen girls' schools to meet Afghan women and girls' legitimate aspirations for peace, freedom, and justice.
As per the United Nations Human Rights Office of the High Commissioner report in June 2022, the ban on quality secondary schooling for girls, directly affecting 1.1 million secondary school girls, continues, that spells new depths of despair where the young girls are pushed to the darkest day of the era.
Working women are disproportionately affected, according to SIGAR report, with women's employment has fallen by 21 per cent till now. As per Reporters Without Borders (RSF), 84 per cent of women journalists and media workers had lost their jobs since August 2021. The Taliban also mandated that women who wanted to travel for more than 45 miles from their homes be accompanied by a male guardian.
How are Afghan Girls coping with the education ban?
The world has made substantial progress in achieving universal education with boys and girls participating equally in most countries of the world but Afghan girls have been facing enormous hardships and adversity in the past year and remain elusive from education due to the Taliban's brutal and regressive policies.
Despite all the struggles, the Afghan girls found a little hope in pursuing their studies through secret schools. Many accounts are coming up on operating clandestine schools in defiance of the secondary education ban for Afghan girls. The girls who are attending secret schools display their stimulating resilience and the strength is inspiring with a hope that this dark cloud shall pass to see a bright morning. The Afghan girls have to weigh up if the Taliban discovers their secret school.
As per the UN Women Report August 2022, in 2021, 22,375 (12.5 per cent out of 179.000) female secondary school students took the national university entrance exam. As of April 2022, 80% of the secondary school girls ( 0.85 million of 1.1 million in 2021) were prevented from attending classes. This demonstrates the Taliban's crippling governance capacity in pursuing policies to guarantee full gender parity and full women leadership.
Taliban's authoritarian, patriarchal and misogynistic narratives to relegate Afghan women are on the rise, beyond this, there are women in Afghanistan who are demanding and marching against the repressive rule to secure their rights and justice.
Taliban's Outlook towards Education and Basic Human Rights
In September 2021, Afghanistan's education minister, Taliban leader Sheikh MolviNoorullahMunirthe minister said, "No PhD degree, Master's degree is valuable today. You see that the mullahs and Taliban that are in the power, have no PhD, MA or even a high school degree, but are the greatest of all."
Minister of Education Abdul BaqiHaqqani made it clear in his first meeting with university teachers: "The graduates we inherited from the occupation years are useless." Learning languages and science was declared irrelevant.
The Taliban are very reluctant to educate people, so these facts give a very clear indication; the Taliban has no value for education. The second aspect as far as women are concerned, though the holy Quran does not specially mention that women and girls should not be educated but it is the clergy or the religious leaders of the Islamic community who feel that educating girls and making them modern will undermine their future. Therefore, they wish to keep the people of Afghanistan uneducated or less educated and not involve the women either in education or in any workforce, so that they continue to rule the population of Afghanistan and they remain supreme.
In the modern world today, the leaders in the government need to have education, and experience, besides political acumen. Whereas, the Taliban think that education is of no value and that women need not be educated that will ensure if these two criteria are fulfilled it will ensure their continuity in positions of power.
Over 16 months, the Taliban's regime in Afghanistan has created the greatest cascade of crises in the generation. First and foremost, they have reversed the 20 years of hard-won gains to a mere Islamic rule devoid of inclusiveness and diverted the much-needed development agenda at the moment. Learning mathematics, science, geography and other subjects is now an illegal act of resistance.
Though in Afghanistan formal education is known in the West, it has not been propagated. The number of madrasas in Afghanistan has increased phenomenally over some time. Dozens of state schools, public universities, and vocational training centres have been turned by the Taliban into Islamic seminaries across Afghanistan. According to the BBC, there are nearly 13,000 unregistered religious schools and 1,275 religious government-registered schools in Afghanistan. The thriving of madrasas will recognize the links between many forms of vulnerability, human rights, state fragility and the outbreak of conflict to aggravate simmering tensions.
The purpose of education is to educate people and make them useful citizens in a society for which there is a requirement of basic knowledge of various issues like science, mathematics, sociology, geography and various other subjects; when the Taliban do not aim to provide the citizens with basic education, as a result, they fail miserably and the country cannot develop. That does not give them insight as to what is needed in the country. It is very easy to say that the present leadership in the Taliban is not holding PhD degrees but still they are ruling Afghanistan, this perspective gives a host of tough questions here- are they ruling Afghanistan in a manner that will benefit the people of Afghanistan? Are the Taliban doing actions that will integrate with the regions and the world? Will the Taliban be in a position to manage their economy and develop the country in a manner that the Afghan people prosper? After all, governance aims to see that the standard of the people is improved and that they can get basic facilities like education, medical facilities, transportation, and minimum required infrastructure. Will these religious leaders be able to lead towards these goals?
Their edicts as an Islamic Emirate of Afghanistan display they are Islamist and they want Islamic rule; Sharia rule. According to the interpretation of the Sharia Law, which is mostly the Saudi Arabian version and also the Deobandi version, they restrain women from education, and work, and want them to be isolated from public life by staying at home.
Afghan girls and women are seeing a rapid reversal of the rights they achieved in recent decades including their right to a seat in the classroom. The education of secondary schools for Afghan girls has been stopped. So when they stopped the secondary education of the girls and they didn't go to school, how would they go to college then after? It is questionable? Basic education is missing. The Taliban may say, they can go to college but if they do not allow the girls to pass 5th grade then how can they pursue their higher studies? There is a contradiction: the people and the international community must understand this perspective.
While depriving the Afghan girls by sending them to schools, on the contrary, and as per the Afghanistan Analysts Network (AAN) report, more than two dozen top Taliban leaders are educating their daughters at schools in Doha, Peshawar and Karachi. The leaders include Health Minister QalandarEbad, Deputy Foreign Minister Sher Mohammad Abbas Stanikzai, and spokesperson SuhailShaheen.
Women's Rights- a moral imperative
As per UNICEF's report, keeping girls out of secondary school costs Afghanistan 2.5 per cent of its annual Gross Domestic Product (GDP). If the current cohort of three million girls were able to complete their secondary education and participate in the job market, girls and women would contribute at least US$5.4 billion to Afghanistan's economy.
A quantum of work which is available for the progress of the country today, it is men that too selected men are doing in Afghanistan. If the women also join the progress of Afghanistan will be much better and much more.
Way Forward
The most important aspect is to address the human rights violation in Afghanistan, through concerted efforts, the UN must deepen engagement with the Taliban to promote more responsive and inclusive government to contribute to shared goals for legitimate and responsive governance. At the same time it should have been very categorically held consultative meetings with the P5 countries (US, Russia, France, China and Germany) and they should have weighed their understanding to resolve it stating that the international community will not recognize the Taliban government until and unless they fulfil these conditions- importantly, utilizing best preventive tools that usher development- (1) The Taliban must bolster the leadership of women and girls in shaping the future of their countries and ensure they benefit from peace and development gains by equal representation of women in decision making positions.(2) Equal representation of people including minorities and other groups (3) People's government- democratic governance; strengthening synergies across the range of work for long-term development that should have laid out-but it has not been laid out. The International community has not been very clear to tell the Taliban what has to be done for recognizing their legitimate governance.
Until and unless the world gets together under the UN or they can get together under China, Russia, US- get together with anybody, and specifically say that the Taliban have to do these things and give it in writing. I believe the human rights violations will be addressed to their fullest extent.
The US was in Afghanistan for 20 years and had all the opportunities to see that Afghanistan is placed under the government which is elected by the people to see they are strengthened and they are stabilized, with the US proclaiming democracy and exposing democratic values, it was unexpected and it was not befitting of them to hand over Afghanistan to the Taliban which is completely Jihadi oriented.
The world has an opportunity and an obligation to save the succeeding generations of Afghanistan from the scourge of war. The international community must meet its obligations to advance legitimate aspirations of the Afghan people with a revitalized multilateralism that is effective, representative and inclusive.
Rate this Article