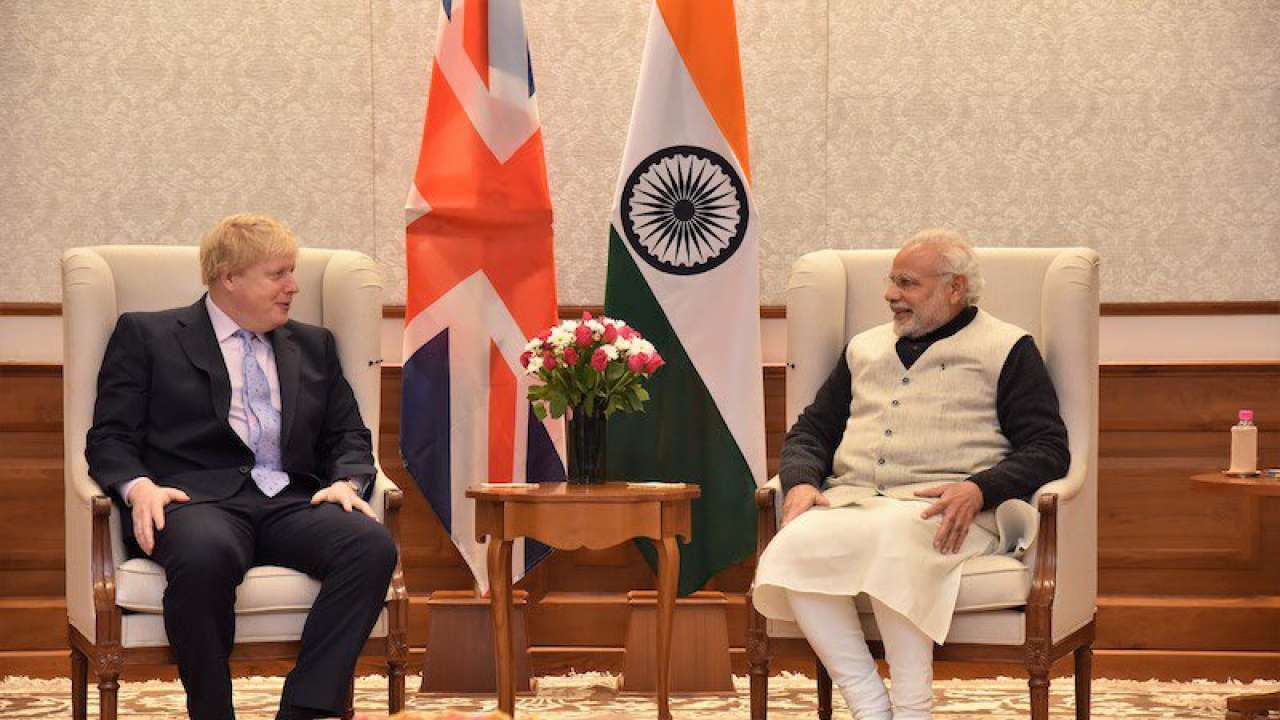 Prime Minister Narendra Modi has invited British Prime Minister Boris Johnson to be the chief guest at the 2021 Republic Day. The invitation was extended during a telephonic conversation between the two on November 27. Boris Johnson will have this honour 28 years after British Prime MinisterJohn Major was the chief guest for the same event in 1993. The visit of Boris will likely witness a review and upgrade of ties between the two nations, especially in the sphere of trade. Interesting a car of MG Motors was flagged off by a Member Parliament of the ruling party and the Chiefof Defence Staff (CDS). This raised some eyebrows because MG Motors though a British company is owned by China's Nanjing Group and the CDS was in full uniform for such an event. For those who did not connect the dots, just few days earlier the cap on price of purchasing cars from CSD canteens was raised.
Britain is looking for trade deals in the post-BREXIT scenario and India is looking at fresh trade opportunities to upgrade the slowing economy in wake of the COVID-19 pandemic and not joining the RCEP. With 47 percent of British exports to the European Union there is anxiety about what happens after BREXIT. India is the fourth largest foreign investor in Britain while Britain ranks 18th as trading partner of India and third after Mauritius and Singapore as an investor in India.
In 2005, the Indo-British Joint Economic and Trade Committee (JETCO) wasestablished for boosting two-way investments between the two nations. As Foreign Secretary in 2017, Boris Johnson had said, "We in the UK are the beneficiaries of reverse colonialism." By 2019 Indian companies in Britain had generated over 48 billion pounds and employed more than 105,000 people there; Tata Group alone having over 63,760 employees.
During the 14th JETCO meeting, co-chaired by India's Commerce and Industry Minister and Britain's Secretary of State for International Trade in July 2020, an early harvest trade deal to lower tariffs on a small set of goods apart from easing rules for select services was discussed. The five key areas prioritized were life sciences, information communications technology (ICT), food and drink, chemicals, and services to address non-tariff barriers to trade towards first an enhanced and eventually a free trade agreement. An Indian statement said that the government is looking at a timeframe of around a year to clinch the early harvest agreement.
In November 2020, officials of India and Britain held a virtual dialogue to review progress towards a post- BREXITEnhanced Trade Partnership with Britain, which could lead to a free trade agreement in the future. At the same time it would be prudent for India to wait and see the effect of BREXIT on both Britain and the EU before rushing into trade agreements with them. This is because EU law specialistsestimate Britain will be unable to have smooth, tariff-free trade under WTO rules for up to seven years in the event of a no-deal BREXIT. British government's statistics themselves estimate that in worst-case no-deal scenario, GDP would be 10.7 percent lower for 15 years than if Britain stays in the EU. Britain puts the cost of BREXIT at Pounds 5 trillion, which will affect its economy. India must be cautious despite destined to be one of the biggest, if not the biggest, economy over the next two decades at least in terms of purchasing power parity.
After the British ruled India over twocenturies, the manner in which Cyril Radcliffe partitioned India in five weeks with the Radcliffe Line between India and Pakistan resulting in unspeakable violence that killed one million plus people and displaced 12 million and has left very deep wounds. Worse was more British treachery in orchestrating Pakistan's aggression of India, making it party to the Kashmir dispute that never was, and giving Pakistan a border with China it never had. The fall of Skardu to Pakistan was again the handiwork of the British C-in-C of Pakistani army. Yet, Britain has never shown any remorse for its treachery towards India. Even for the Jalianwala Bagh massacrecarried out by a British officer commandingcolonial troops in India, British Prime Minister Theresa May did not offer absolute apology but told the British Parliament in April 2019: "We deeply regret what happened and the suffering caused by the massacre" just before the 100th anniversary of the massacre.
Britain and Pakistan were part of Central Treaty Organization (CENTO) till it was dissolved. Britain viewed CENTO important for containing Soviet influence in the region. British officers raised the notorious Inter-Services Intelligence (ISI) of Pakistan, which continues to have close links with Britain's MI-5. Periodic meetings and discussions on security and counter-terrorism are held between the two nations. It is for such reasons that Britain ignores Pakistani terrorism and the BBC which functions directly under the British Foreign Office has a clear bias towards Pakistan. There is a strong pro-Pakistan lobby in Britain. On January 26, 2020, Britain allowed hundreds of anti-India protestors shouting slogans outside the Indian High Commission in London. No country has the right to meddle in internal affairs of another country. Justin Trudeau, Canadian Prime Minister has been undiplomaticallycommenting on the farmer agitation in India which is not any of his business. Similarly, 36 British Members of Parliament are raising the red flag on the same issue. Does this pack of 36 dare to comment on the new security law in France or the plight of Uyghur Muslims in China?
A continuing sore point in Indo-British relations is Britain having become a safe haven for India's financial fraudsters by default or design? Extradition of numerous fraudsters booked under India's Fugitive Economic Offenders Act, which allows the confiscation of all properties and assets of people who are charged in offences measuring over Rs 100 crore, are evading prosecution by remaining in England. India and Britain signed an extradition treaty in 1992 but over past 28 years Britain extradited only two Indian fugitives. All other requests for extradition of fugitiveswith frauds running in thousands of croresof rupees like Vijay Mallya, Nirav Modi, LalitModi, Sanjay Bhandari and many more drags on. The issue needs to be discussed and in case laws need streamlining, early action initiated.
A British Council report of November 2015 visualized great opportunities for India and Britain forging a stronger relationship. It saw India soon becoming one of the biggest influences on the world and closer cultural and educational ties can help to unlock that partnership. But it cited evidence in suggesting that Britain will need to continue to up its game if it is to take advantage of India's rise. The report recommended: one, British government and leading institutions should set out a 2050 vision for Britain-India relationship and make a long term commitment for realizing it. Two, Britain should understand and support India's priorities to ensure it remains relevant including engaging with the Indian ambitions for urbanization, digitization and skills. Three, launch a Britain-India Young Leaders/Next Generation Forum for the young (15-35 age group) who will potentially be leaders by 2050, and. Four, British companies and institutions seek further opportunities to collaborate more with each other in engaging with India, both within and across sectors to bring together different skills and expertise creating opportunities to work at scale. The report concluded that if these steps are taken there was every chance of India and Britain creating one of the most important and positive relationships of the 21st Century.
Whether Britain defined a 2050 vision for Britain-India relationship in accordance with the above British Council report is notknown. However, there is tremendous scope of all round Indo-British cooperation over and above trade and commerce. The bilateral partnership can contribute immensely for mutual benefit of citizens of both nations and for betterment of the world at large given that Britain is a P-5 countryand there are multiple issues of convergence at regional and global levels. The forthcoming visit of Boris Johnson in January 2021 should take Indo-British relations to the next level.
Rate this Article