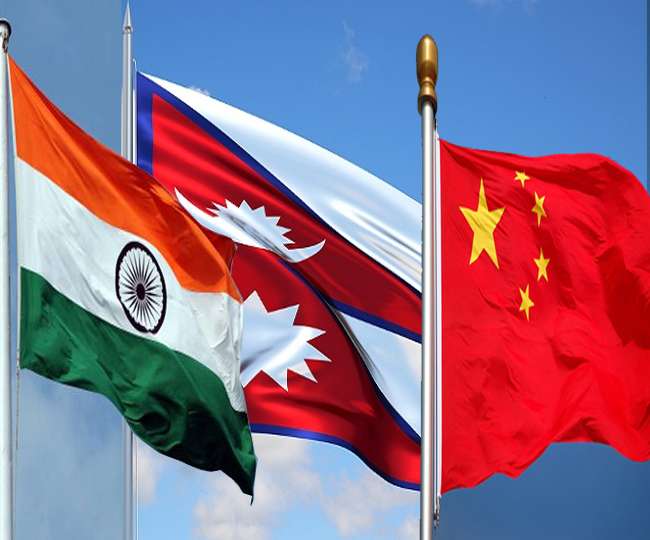 As Prime Minister KP Sharma Oli dissolved Nepal's parliament on Dec 20 last year[1], the country quickly descended into political turmoil again after a short stint of the Nepal Communist Party's (NCP) government. Nepal still remains a highly political volatile budding democracy. The country's parliament was dissolved this time around only two and a half years after the government came in power, the first one after adopting the new constitution of 2015, which interestingly had safeguards against the parliament's abrupt dissolution. Those safeguards were incorporated based on the history of 3 such dissolutions since 1991.
While India used to be the traditional mediator and political guardian in Nepal's domestic politics, primarily driven by the realist tendencies of ensuring friendly government in the country to secure its national interests, there seems to be an uncharacteristic passiveness on India's account this time around. On the other hand, China seems to have found itself involved in micromanaging Nepal's ruling government's political infighting.[2] Like India's belief that friendly governments in power will yield desirable outcomes in its engagement with its neighbours, China believes that a government at the helm, with ideological affinity to the Chinese Communist Party (CCP), will benefit its ambitions in Nepal. China has invested billions of dollars in Nepal and has pledged more of it. However, China scrambling to prevent the communist alliance is more about its strategic ambitions in Nepal than economic ones. Nepal is an important piece of China's South Asia strategy, wherein it seeks to challenge and dislodge India as the dominant power in the region.
Soon after the dissolution of the parliament, China sent a delegation led by Guo Yezhou, a vice-minister of the International Liaison Department of the CCP,[3] to hold meetings with Prime Minister Oli and rival factions led by PK Dahal as well as leaders of opposition parties as it tries to salvage its political advantage in Nepal while exercising hedging behaviour. China was caught off guard by PM Oli's dissolution move, which in turn highlights its limited understanding of Nepal's internal political system as well as its miscalculation in ascertaining advantages extended by ideological bonhomie. Instances of inconsistent returns of China's political investments are distinct. While the Oli government revived the USD 2.5 billion hydro project funded by China[4], it did not limit him from signing an agreement for a USD 500 million[5] Millennium Challenge Corporation grant from the US. Not only that, despite politically motivated actions of PM Oli concerning the Kalapani issue, the recent uptick in the Indo-Nepal bilateral ties marked by high-level visits of Indian Army chief, Research and Analysis Wing chief, Indian Foreign Secretary to Nepal might have come as a surprise to some in the Chinese quarters. This softening posture came at a time of the intensifying political infighting, which points to PM Oli's understanding of India's importance and influence in Nepal's domestic politics.
India, the usual external player in Nepal's domestic political intricacies, decided to be a passive participant but an active observer of the current political turmoil. The country termed the matter as an internal issue of Nepal, to be handled by Nepal's democratic processes. Why India has chosen a passive role this time around is a matter of great significance. Whether this move is driven by a matter of changing policy or is just a one-off measure based on the evolving situation in Nepal can only be ascertained with time. If it is the former, then that would be a significant shift in India's long-standing practice of acting as the guardian of South Asian countries. Given the backlash faced as a result of the 2015 Nepal blockade[6], India could be moving cautiously to stay away from the public eye and regain public confidence even as China comes across as the one interfering in Nepal's internal matters. One of the most significant advantages of not being the sole external power in a country's politics is the opportunity to share the space for grievances and hostility of the host population and leaders when the situation seems appropriate. For India, that opportunity seems to have presented itself with the dissolution of the parliament in Nepal.
While this given policy should be a norm for India's external approach in the neighbourhood, the overall space for influence in Nepal still remains highly contested with India's archrival, China. Many bilateral issues with Nepal like the Kalapani boundary dispute, delayed implementation of connectivity and other developmental projects and the positively emotionally charged issue of revising the Indo-Nepal Treaty of Peace and Friendship, 1950 require sincere attention from both India and Nepal. For its part, India should be willing to make certain concessions without compromising its national security interests. These could be related to improving trade with Nepal by removing barriers to exports from Nepal, which maintains a high trade deficit with India. Similarly, time-bound completion of connectivity and development projects in Nepal is all the more critical for India as it is increasingly judged against China's time benchmarks. Improving Nepal's access to the outside world via its port should be a priority for India even as Nepal works to diversify its connectivity portfolio.
Many former diplomats agree that the current Indian strategy regarding the ongoing crisis is the right one.[7] To shed its big brother image in the neighbourhood will prove to be a complicated task for India as it will continuously need to balance its actions between its national interests, increasing Chinese activity and the sovereignty of each country.
End-Notes
[1] Shraddha Pokharel (2020), "As Oli dissolves Nepal's parliament, the country's nascent ethos of federalism teeters on edge", Scroll.in, 04 Jan 2021, available at https://scroll.in/article/983017/as-oli-dissolves-nepals-parliament-the-countrys-nascent-federalism-teeters-on-edge accessed on 11 January 2021
[2] Kinling Lo (2021)," As Nepal faces political turmoil, China and India are scrambling", South China Morning Post, 10 Jan 2021, available at https://www.scmp.com/news/china/diplomacy/article/3116982/nepal-faces-political-turmoil-china-and-india-are-scrambling accessed on 11 January 2021
[3] Shishir Gupta (2020), "China readies Plan B for Nepal Communist Party if PM Oli doesn't play ball", Hindustan Times, 29 Dec , available at https://www.hindustantimes.com/world-news/china-readies-plan-b-for-nepal-communist-party-if-pm-oli-doesn-t-play-ball/story-HFQ57iUBBdv3BGBkAnbJoN.html accessed on 11 January 2021
[4] Kinling Lo (2021)," As Nepal faces political turmoil, China and India are scrambling", South China Morning Post, 10 Jan , available at https://www.scmp.com/news/china/diplomacy/article/3116982/nepal-faces-political-turmoil-china-and-india-are-scrambling accessed on 11 January 2021
[5] Suhasini Haidar (2020), "As China shows its hand in Nepal's political crisis, India prefers to watch from the sidelines", The Hindu, 28 Dec, available at https://www.thehindu.com/news/national/as-china-shows-its-hand-in-nepals-political-crisis-india-prefers-to-watch-from-the-sidelines/article33431678.ece accessed on 11 January 2021
[6] Prashant Jha (2017), "How India steadily lost all its leverage in Nepal", Hindustan Times, 23 Dec, available at https://www.hindustantimes.com/opinion/how-india-steadily-lost-all-its-leverage-in-nepal/story-eyZcX3OOVJRVqJvP7EXH0O.html accessed on 11 January 2021
[7] Suhasini Haidar (2020), "As China shows its hand in Nepal's political crisis, India prefers to watch from the sidelines", The Hindu, 28 Dec, available at https://www.thehindu.com/news/national/as-china-shows-its-hand-in-nepals-political-crisis-india-prefers-to-watch-from-the-sidelines/article33431678.ece accessed on 11 January 2021
Courtesy: https://www.claws.in/india-and-china-swap-roles-amid-nepal-political-crisis/
Rate this Article