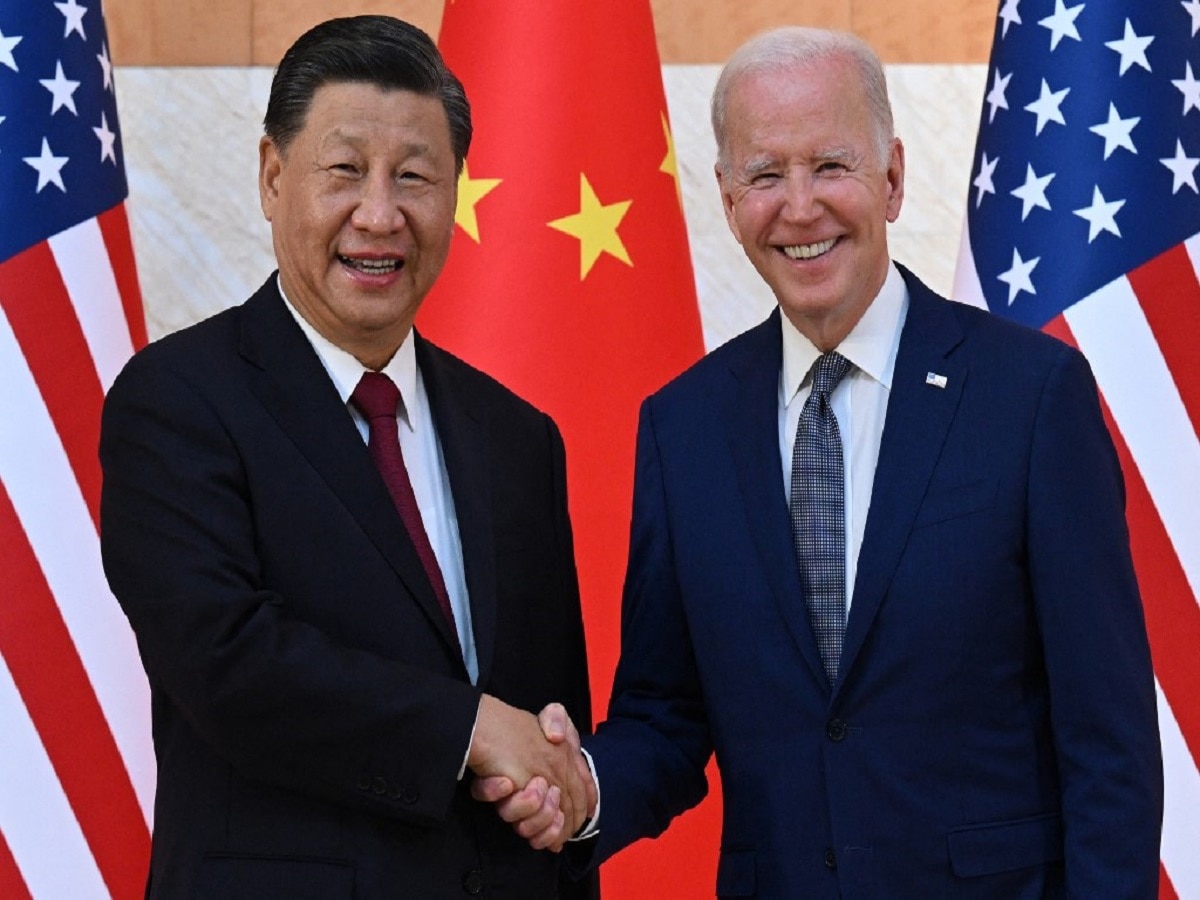 US President Joe Biden and Chinese President Xi Jinping held a three-hour meeting on November 14 on the sidelines of the G20 summit in Bali, Indonesia. Visuals showed Biden walking up to Xi at the hotel, both shaking hands and posing for photographs sporting fake smiles. This was their first in-person meeting after Biden became the POTUS.
Before coming to Bali, Biden said America's midterm elections have "sent a very strong message around the world that the US is ready to play". Biden opened the bilateral meeting by saying, "We have a shared responsibility to show that China and the US can handle differences and find ways to work together." Xi on the other hand stated, "At present, China-US relations are in a difficult situation, we are all very concerned about this. This is not the fundamental interest of our countries and peoples, and this is not what the international community expects of us."
Biden said the world expects China and the US to play key roles in addressing global challenges and the US is ready to do. The need is to chart the right course for the China-US relationship. The world has come to a crossroads and China-US need to work with all countries to bring more hope to world peace, global stability and common development.
Biden raised concerns about: China's practices in Xinjiang, Tibet, Hong Kong and human rights in general; Russia's war against Ukraine and threats of nuclear use; DPRK's provocative behavior; China's non-market economic practices harming American workers, families, and workers, and; wrongfully detained American citizens subject to exit bans in China. On Taiwan, Biden reiterated America's 'one China policy; has not changed but the US opposes unilateral changes to the status quo. Biden also underscored the US commitment to defend its Indo-Pacific Allies.
According to the White House, both leaders opposed the use of nuclear weapons in Ukraine. Both discussed the importance of developing principles to enable working together for addressing global issues and transnational challenges. They agreed to empower key senior officials to maintain communications and deepen constructive efforts.
China's Ministry of Foreign Affairs has issued a brief covering what Xi Jinping said during the meeting; important highlights of which are as under:
China and the US need to bring the relationship back on track for mutual benefit and the world as a whole.
China is firm in pursuing independent foreign policy and is for resolving disputes peacefully through dialogue.
With the world at a major inflection point and countries facing unprecedented challenges, China-US relations should not be a zero-sum game with one side thriving at the expense of the other.
China does not seek to change existing international order, interfere in America's internal affairs or replace the US.
Taiwan is China's internal affair. President Biden has said on many occasions that the US does not support "Taiwan independence" and has no intention to use Taiwan as a tool to seek advantages in competition with China or to contain China.
Freedom, democracy and human rights are common pursuits. The US has American-style democracy and China has Chinese-style – both fitting respective national conditions. The so-called "democracy versus authoritarianism" narrative is not the defining feature.
China and the US should not try to change or subvert the other's system. Instead of talking in one way and acting in another, the US needs to honor its commitments with concrete action.
Starting a trade or a technology war, building walls and barriers, and pushing for decoupling and severing supply chains run counter to the principles of market economy, undermining international trade. China opposes weaponizing economic and trade ties as well as exchanges in science and technology.
China is highly concerned about the situation in Ukraine and hopes that the US, NATO and the EU will conduct comprehensive dialogues with Russia.
The two presidents agreed that their respective diplomatic teams should maintain strategic communication and conduct regular consultations.
The above Xi-Biden meeting achieved little beyond the scope of increasing the interaction between American and Chinese senior-level officials which was somewhat missing. German Chancellor Olof Scholz recently led a delegation to Beijing because of Germany's economic situation and perhaps to feel how China views the West. Now, US Secretary of State Antony Blinken is to visit China. However, the Xi-Biden decision to first work out the "principles" for mutual cooperation may take longer than the time to evolve the "Code of Conduct" at sea between China and ASEAN.
Biden wanted to pressure China on human rights and on Taiwan by saying the US is committed to defend its Indo-Pacific allies but Xi gave it right back to him. Similarly, Biden's claim that the US does not want another Cold War was retorted by XI pointing out the trade-technology war, weaponizing economic and trade ties and exchanges in science and technology. Xi said the US talks in one way but acts in another; accusing America of duplicity.
Isn't the US undermining China's semiconductor industry? Concurrently, the US has imposed a national emergency due to unacceptable rare Eerth metals for their manufacturing establishments. So where is the China-US cooperation and what about disruption in the supply chain of these two items to the rest of the world? Significantly, the US has "not" included India in the US-led 'Minerals Security Partnership' to secure supply chains of critical minerals; for reducing dependency on China.
Obviously, the US and China do not want to engage in direct conflict with each other but the manner in which the US has been lighting up the Taiwan issue will not be tolerated by third-time president Xi. Biden perhaps is unaware that when Xi visited Nepal in October 2019 as the first Chinese president in more than two decades, referred to Hong Kong he said that "anyone attempting to split China in any part of the country will end in crushed bodies and shattered bones". He added that "those who engage in separatist activities in any part of China will be smashed into pieces." The implications for Taiwan are obvious.
On balance, the fundamental stance of the US and China remains unaltered. The reason for the world at crossroads (as Biden said) or at an "inflection point (in Xi's words) is the Ukraine conflict. But by criminalizing Russian President Vladimir Putin, Biden is whitewashing America's decades-old plan to expand NATO and Ukrainian genocide in the Donbas region to force Russia into launching cross-border special operations. Biden probably hopes Ukraine conflict will make the world forget the shame of America's rout from Afghanistan and handing over the country to Taliban.
The US has opened dialogue with Russia not for ceasefire but fearing nukes may come into use. But if Ukraine continues to bomb and attack the Donbas region and Crimea on American insistence, Russia could still be forced to use tactical nuclear weapons, which could escalate into WWIII with the blowback singing US-NATO, the EU and rest of the world. That would perhaps also be an opportunity for China to use force against Taiwan.
The world appears to be sitting on a powder keg and the US intent on igniting it in an effort to kill Russia and China, with the utopia it would succeed. The drama of UNGA demanding Russia to pay compensation to Kiev is ongoing but the US would go bankrupt if it is asked to pay compensation to scores of countries it has attacked and destroyed over the decades. To reinforce condemnation of Russia at the ongoing G20 summit, the narrative being built is of Russia raining missiles on Kiev.
On balance both China and the US don't mean what they say. Separately, Xi Jinping has said that the PLA should focus all energy on local wars; fighting and winning them. India also is in his crosshairs notwithstanding his handshake with Prime Minister Narendra Modi at Bali. Biden would be happy in another Ukraine in the Indo-Pacific, be it India or Taiwan.
Rate this Article