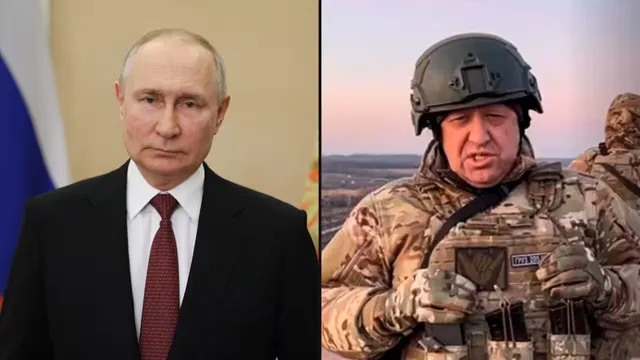 On June 23–24, 2023, a Russian private military corporation launched the two-day Wagner group rebellion against the Russian government. The underlying causes of the uprising can be attributed to the escalating conflicts between Yevgeny Prigozhin, the leader of the Wagner group, and the Russian defence ministry in relation to the ongoing Ukrainian conflict. Prigozhin levelled accusations against the ministry, alleging incompetence, corruption, and betrayal of Russian interests. Consequently, he called for the immediate resignation of Defence Minister Sergei Shoigu and Chief of General Staff Valery Gerasimov.
Brief sequence of Events: The initiation of the revolt occurred when Prigozhin disseminated video and audio messages on the messaging platform Telegram, wherein he advocated for a militarised rebellion against the Russian military hierarchy and proclaimed a "march for justice" spanning from Ukraine to Moscow. 'The Federalnaya Sluzhba Bezopasnosti(FSB)', the Russia Federal Security Services, initiated legal proceedings against the individual in question and encouraged his combatants to disassociate from him. The Wagner forces, commanded by Yevgeny Prigozhin, with an estimated strength ranging from 8,000 to 25,000 mercenaries, successfully entered Russia's territory and swiftly took control of the city of Rostov-on-Don, as well as the headquarters of the Southern Military District, encountering minimal opposition. Along the route, they shot down two Russian military helicopters and an aeroplane. Subsequently, the armed contingent proceeded towards Moscow in a formation of armoured vehicles, engaging in confrontations with forces loyal to the established authority throughout their journey. The uprising concluded with Prigozhin's agreement to relinquish his position and remove his troops from Rostov-on-Don, after the intervention of Belarusian President Alexander Lukashenko. Putin presented Prigozhin with three alternatives: the opportunity to join the defence ministry, the option to relocate to Belarus, or the requirement to dissolve his group. Prigozhin decided to take the second course of action and travelled to Minsk with a few of his supporters. On June 27th, the FSB dismissed the charges against the individual in question and subsequently closed the case.[1]
Russian Private Military Company (PMC)
According to a study conducted by the U.S. Army's Asymmetric Warfare Group, Russian PMCs serve as a strategic tool to enhance operational capabilities and accomplish objectives for both governmental and Russia-aligned private entities. PMCs associated with the Russian government frequently offer training and operational support with the objective of disseminating Moscow's influence, enlarging its military and intelligence presence, and ensuring the acquisition of natural resources and other economic benefits. This utilisation of PMCs allows for the reduction of political and military expenditures.[2]
The global presence of private military companies (PMCs) experienced a significant surge between 2015 and 2021, with the number of countries in which they operate witnessing a sevenfold increase. Specifically, the count rose from four nations in 2015 to a notable 27 countries by 2021. According to reports, Russian Private Military Companies (PMCs) are currently operational in various regions, namely Africa, the Middle East, Europe, Asia, and Latin America. These PMCs have been observed in countries such as the Central African Republic (CAR), Libya, Sudan, Mali, Syria, Ukraine, and Venezuela. Significant diversity exists in the organisational structure, magnitude, responsibilities, duties, and financial frameworks observed in various deployments of private military companies (PMCs). Typical duties encompass the provision of training and resources to indigenous forces, engagement in military operations, safeguarding of sites and personnel, gathering of intelligence, and execution of information campaigns.[3]
Was it in Timeline?
Kseniya Kirillova, an analyst of Russia issues at Washington DC-based think tank Jamestown Foundation, says, "The mutiny by Wagner Group shocked the world, but observers of Russia predicted it".[4]
Following the Russia-Ukraine conflict, particularly in the wake of the brutal battle in Bakhmut, the conflicts inside the Wagner Group gathered strength. According to the BBC, Prigozhin blamed Shoigu and Gerasimov for "failures in the military campaigns" and said that they were attempting to take credit away from Wagner for their triumphs. The August 2022 incursion into Bakhmut, Ukraine, emerged as a source of dispute between Prigozhin and the military command, following the significant casualties suffered by Wagner mercenaries. Notwithstanding these circumstances, the Russian government made efforts to appropriate recognition for the triumph in that region. The event incited the Prigozhin rebellion.[5]
Some reports claim that Prigozhin's dissatisfaction with the Kremlin's intention to nationalise his Wagner Group and restrict his successful commercial operations in Africa and elsewhere in the Middle East and North Africa led to his rebellion against Putin, however the details are murky. His trust in the Russian military leadership was shattered when he accused Defence Minister Sergey Shoigu of being inept and corrupt for authorising attacks on Wagner camps in Ukraine. Prigozhin may have also exaggerated his support from the Russian populace and his chances of unseating Putin as the country's leader.[6]
The implications
Despite its brief duration, the revolt had a profound impact on Russian power circles, causing a significant disruption and undermining Putin's perceived omnipotence. Moreover, it instilled a sense of optimism among Ukrainians, as they saw the potential for internal conflicts within Russia to work in their favour.[7]
The conflict between Yevgeny Prigozhin, the head of Wagner Group, and Russian President Vladimir Putin is widely regarded as the most significant challenge to Putin's 22-year tenure. The significance of the uprising is it divulged the inherent deficiencies within the Russian power system. The revolt was perceived as an indication of Putin's diminished authority over a vital supporter and a proxy. Prigozhin significantly advanced Putin's foreign policy goals in various nations, including Ukraine, Syria, Libya, and the Central African Republic. The Wagner group operated as a covert entity serving Russian interests in these contexts. The unrest further exposed the profound conflicts within the Russian ruling class and armed forces regarding the advantages and drawbacks of the Ukrainian conflict, which had led to global sanctions, economic downturn, and internal dissatisfaction.[8]
The potential repercussions arising from the rebellion, as assessed by western analysts, could potentially yield unintended advantages for Ukraine in its endeavours to counter-offensive. The Russian military forces will need to remain vigilant as they potentially face the prospect of engaging in domestic conflict soon. Moreover, the revolt was regarded as a development that instilled hope in Ukraine and its Western allies, as it suggested the possibility of Russia being receptive to negotiations for a peaceful resolution to the conflict. This perception arose from the perceived vulnerability and isolation of Putin amidst the crisis.[9]
Russian Reactions
Prigozhin, a former convict, successfully transformed a restaurant business in St. Petersburg into a profitable venture by securing a contract with the Kremlin, where he became known as "Putin's chef." Subsequently, he shifted his focus towards managing Wagner, a privately operated mercenary group in Russia known for its ruthless and efficient operations. Putin compared Prigozhin's move to "a stab in the back" when he spoke to the country on June 24, 2023.[10]
According to Russia's president Vladimir Putin, Wagner was given a sum that totalled $1 billion (equal to 86.262 billion Russian roubles) between May 2022 and May 2023 only for the purpose of settling wages and bonuses. The funds came from two different places: the budget of the state, as well as the ministry of defence.[11] According to Mr. Putin, individuals affiliated with this group were consistently accorded a high level of reverence due to their demonstrated acts of courage and heroism. He directed the authorities to undertake an investigation into the allocation of funds to Wagner and its leader, with the aim of determining how they spent the money. The defence ministry has announced that the group is currently preparing to transfer its heavy weapons and equipment to the Russian army. The FSB has reported that criminal charges against individuals involved in the mutiny have been dismissed.
Conclusion
This mutiny can be traced back to a poisonous cocktail of unfair competition, ambition, and envy that had been smouldering for months before it broke out into open rebellion. There are many Private Military Companies (PMCs) operating in Russia currently. These PMCs have connections to government officials, oil businesses, and billionaires. According to The Guardian, there exists some evidence to believe that the commitment of these organisations to the government is in doubt, which undermines the notion that Russia can endure a protracted struggle in Ukraine.[12]
The Wagner PMC's founder was going out of control. For Putin, rebellion created a bad precedent, and his impunity made that precedent much worse. The decision made by the Russian defence ministry to assume control over "volunteer formations" should be analysed within the context of internal divisions and conflicts, as well as the ongoing conscription process. Putin's clout beyond Ukraine will also have weakened now that the Wagner group has openly rebelled. Putin will find it difficult now to immediately replace Wagner.
Nevertheless, Putin effectively utilised his personal connections with Prigozhin and Lukashenko to successfully quell the uprising in a nonviolent manner. He made that tactical decision to restore order and mitigate violence among the Russian soldiers. This indicates that Putin currently maintains sufficient authority and backing to effectively address any potential future challenges. But he has number of challenges ahead.
———————————
[1] "Timeline: How Wagner Group's revolt against Russia unfolded", Al Jazeera, 24 Jun 2023, https://www.aljazeera.com/news/2023/6/24/timeline-how-wagner-groups-revolt-against-russia-unfolded. Accessed on June 30,2023.
[2] Catrina Doxsee, "Putin's Proxies: Examining Russia's Use of Private Military Companies", CSIS, September 15, 2022, https://www.csis.org/analysis/putins-proxies-examining-russias-use-private-military-companies. Accessed on June 27, 2023.
[3] Seth G. Jones , Catrina Doxsee , Brian Katz , Eric McQueen , and Joe Moye, "Russia's Corporate Soldiers: The Global Expansion of Russia's Private Military Companies", July 21, 2021, https://www.csis.org / analysis / russias-corporate-soldiers-global-expansion-russias-private-military-companies. Accessed on June 27, 2023.
[4]Madhur Sharma, "Wagner Revolt Was Only A Matter Of Time, Not Possible Without Internal Help: Russian Analyst Kseniya Kirillova", The Outlook India, June 28, 2023, https://www.outlookindia.com/international /wagner-group-revolt-only-matter-of-time-not-possible-without-internal-help-russian-analyst-kseniya-kirillova-news-298536. Accessed on June 30,2023.
[5] "The Wagner Group Rebellion: Unravelling The Rift Between Putin And Prigozhin", ABP News, June 25, 2023, https://news.abplive.com/explainers/why-did-wagner-group-rebel-against-vladimir-putin-yevgeny-prigozhin-russia-ukraine-war-mercenaries-1611519. Accessed on June 27, 2023.
[6] "Ukraine war: aborted Wagner Group rebellion shows how Putin's attempt to unify Russian forces has failed to quell factional rivalries", The Conversation, June 25, 2023, https://theconversation.com/ukraine-war-aborted-wagner-group-rebellion-shows-how-putins-attempt-to-unify-russian-forces-has-failed-to-quell-factional-rivalries-208213. Accessed on June 27, 2023.
[7] AP, "Recapping Wagner's revolt in Russia, through words of four presidents and a mutinous warlord", The New Indian Express, June 29, 2023, https://www.newindianexpress.com/world/2023/jun/29/recapping-wagners-revolt-in-russia-through-words-of-fourpresidents-and-a-mutinous-warlord-2589722.html.Accessed on June 30,2023.
[8]Ibid Outlook.
[9] Ibid ABP.
[10] Jason Corcoran, "There's blood in the water after Prigozhin's revolt shattered the façade of Putin's invincibility", Insider, June 29, 2023, https://www.businessinsider.com/paranoia-grips-the-kremlin-over-who-colluded-with-prigozhin-2023-6?IR=T.Accessed on June 29. 2023.
[11]Sarah Rainsford& Kathryn Armstrong,"Wagner mutiny: Group fully funded by Russia, says Putin", BBC, June 27, 2023, https://www.bbc.com/news/world-europe-66029382?at_medium =RSS&at_ campaign = KARANGA. Accessed on June 27, 2023.
[12] Ibid ABP.
Rate this Article