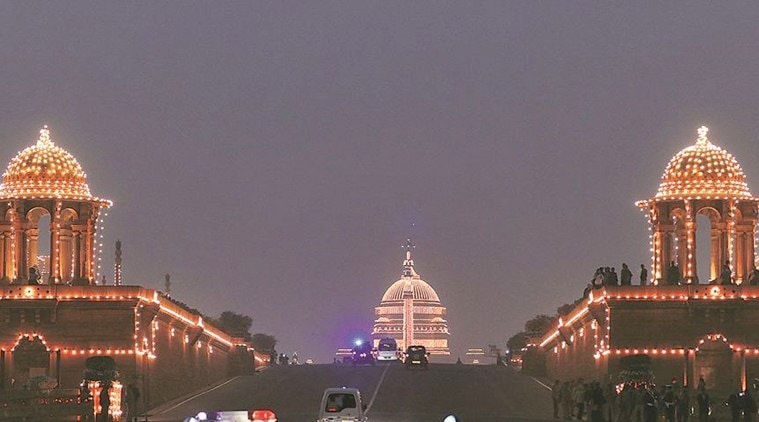 If one were to just count the number of VIPs, delegates and representatives from over a 100 countries that attended the 8th edition of the Raisina Dialogue in New Delhi March 2-4, it would be quite obvious that India was the flavour of the week for almost the entire world.
Of course, the fact that the flagship event, hosted by the Indian Ministry of External Affairs and the Observer Research Foundation, overlapped with the G20 Foreign ministers' meeting in Delhi held under India's presidency March 1-2 , did have something to do with the large number of foreign ministers who stayed on to attend the Raisina Dialogue. But a large number of non-G-20 foreign ministers were also present at the Raisina Dialogue.
Among others, the foreign ministers of the Quad, which comprises Australia, Japan, the US and India, which was hosting both the events, Sri Lanka's Foreign Affairs Minister M.U.M. Ali Sabry, the foreign minister of the Maldives Abdulla Shahid, Bangladesh Foreign Minister Dr Abdul Momen, British Foreign Minister James Cleverly, Egypt's foreign minister Sameh Hassan Shoukry, as well as Russia's foreign minister Sergei Lavrov, who was apparently given a hard time by many of the other foreign ministers at the G20 meeting over his country's intervention in Ukraine.
According to Dr Jaishankar, "It's not often that countries get a second or third bite of the apple. I think India today is in a very unusual position: Once more, very decisively upwardly mobile, which a lot of other civilizations states are not in a position to do."
Qin Gang, former Chinese ambassador to the US who had been appointed Minister of foreign affairs in December 2022, did not stay on for the Raisina Dialogue, with many insiders saying he had not been formally invited to it in the first place.
But China aside, the list of delegates and speakers attending the Dialogue included other ministers, serving and former heads of state and government, military commanders, captains of industry, technology leaders and wizards, academicians, scholars, think tanks and experts spanning multiple domains, and of course, journalists from around the world.
The Taj Palace Hotel in New Delhi's diplomatic enclave, the traditional venue of the Raisina dialogue, was bursting at the seams on the day of the inauguration by Italy's feisty Prime Minister Giorgia Meloni, who was obviously overwhelmed by the ceremonial reception she received in New Delhi on her maiden trip to Delhi, complete with a guard of honour at Rashtrapati Bhavan, or the presidential palace. She was accompanied by Prime Minister Narendra Modi, who, uncharacteristically for him, didn't say a word. Hours earlier, the two leaders had held formal talks at Hyderabad House, after which Modi announced that the bilateral relationship had been upgraded to a strategic partnership.
Noting that that Covid 19 had exposed the fundamental flaws in the world's supply chains, Meloni in her keynote address said that "they said we could solve every problem with free trade, that we are going to have democracy and richness for everybody. It wasn't like that, and we have to face it. That we were wrong." Noting that she had been in the Ukrainian capital kyiv a week earlier, where had had witnessed the suffering of the people first hand, she said it was true that this was a European war, and that other nations far removed geographically had their problems to solve.
"This should not however overshadow the relevance of what is at stake," she said. "The Russian attack is not simply an act of war or a localised conflict and a violation of the territorial integrity of a sovereign nation. It is a violation of the international order that enables the international community to thrive. And we cannot allow the very foundation of international law to be threatened, without which only military force would be taken into account and every state in the world would risk being invaded by its neighbours. These are not just the interests of European countries, these are the common goals of the co-existence of all countries of the world…Europe's problems today have become the world's problems."
One could see India's external affairs minister Dr S Jaishankar, who had earlier this year told European leaders that they should stop believing that Europe's problems were the problems of the world, squirming uncomfortably in his seat in the front row of the audience, but that is another story.
Even Ukraine's president, Volodymyr Oleksandrovych Zelensky, had admitted that "we needed the Minsk agreements to buy some time to get more and more weapons to Ukraine," Lavrov claimed.
And in a reference to the theme of this year's dialogue — Provocation, Uncertainty, Turbulence: Lighthouse in the Tempest? — Meloni concluded by stating that "lighthouses do not obscure each other. They can shine together to enable all of us to navigate these troubled waters."
Dr Jaishankar in his vote of thanks began by referring to the theme, saying that it "captured the state of the world." But, he said, "It is up to each one of us to see whether we put the focus on the tempest or the lighthouse. A lot of us in India can see the lighthouse shining quite brightly. We believe that for all the challenges in the world, there is the leadership, there is a vision, there are solutions…"
Leadership and vision were among the two major items on the dialogue agenda, with a panel on leadership which had former British Prime Minister Tony Blair, Former Captain of the England Men's Cricket Team, Kevin Pietersen and Dr Jaishankar among the panelists.
Blair, who felt that "It is absurd to think that India is not a permanent member (of the UN Security Council) " qualified it by noting that "but you can say that for other countries as well."
According to him, "I think the real challenge today, is how you make sense of this shifting geopolitics. The position of India is absolutely critical because the progress of India in these last years has been remarkable and extraordinary, and the position of India is potentially more powerful than it's ever been with the G20 (presidency).
Lauding India's digital ID program as "one of the best programs that has brought remarkable transformations," he said the rise of India is a pointer that "we are in a new era. India's position today is potentially more powerful than it's ever been. And India is expected to lead the Global South in a manner like never before."
He also felt that "leadership has been more challenging in the age of social media. Good leaders know that criticisms come with the job. The essence of leadership is taking bold decisions and standing by them."
Both Jaishankar and Pietersen concurred.
"India is a place that I love. I've been coming here for 20 years now and the country just keeps getting better and better. At the moment, there's conflict everywhere. As a father of two children, as Joe public, the world is actually a very scary place for us." He then went on to note that perhaps the world could draw inspiration from the game of cricket, particularly the IPL, "where players from all around the world became friends. Here in this beautiful country, that's what cricket has done." But while "I think that sport can be used in some sort of fashion, to be able to try and mend things (although) China and America don't play cricket. And Russia certainly doesn't," he said, drawing a laugh from the rapt audience.
China, that was another ancient civilisation with whom Russia has long-standing relations, and "and we are interested in these two great Nations to be friends and we're trying to be helpful.
According to Dr Jaishankar, "It's not often that countries get a second or third bite of the apple. I think India today is in a very unusual position: Once more, very decisively upwardly mobile, which a lot of other civilizations states are not in a position to do."
Asked to describe Prime Minister Narendra Modi's captainship, he said that "With Captain Modi there's a lot of net practice. This starts at 6 am and goes on till fairly late. However, Captain Modi does give his bowlers a certain amount of freedom. I mean sure, he expects you to take that wicket if he gives you the chance to do it. If we look back at the last three years, the decision to lock down was a very, very tough decision but it had to be taken at that point of time. If we now look back, what would have happened if you had not taken that decision? The decision to push vaccine production in the manner in which it was done — one of the reasons why Tony and I have been so closely in touch during the pandemic was because we were on the raw materials flow for AstraZeneca and Covishield.
"To have the confidence to be able to devise a program to vaccinate so many people, or the call to send vaccines abroad. There was a lot of questioning of that. So whether it's sports or politics, any competitive situation, that willingness to take the difficult call and stand by those calls, and give your people the confidence that you will stand by them when they take the risks. That is leadership."
While Pietersen was adamant that social media was a plague, best avoided or ignored, Blair said it was something leaders could ignore at their peril. Jaishankar's take was "I have two and a half million followers, and I like them."
Pietersen also felt sometimes it was important to just accept something even if you knew it was not quite right, for the sake of peace. And he took the analogy of a husband and wife, where the husband often concurs just to avoid further conflict. He said the world needed people who "can say to their wife, 'yes, you're right, even though you're not right.' I think just getting people together in the room is sometimes not enough. You can ask Dr Jaishankar, he tried that yesterday," he said, referring to the G20 meeting a day earlier where Russian foreign minister Sergei Lavrov and US secretary of state Antony Blinken met under one roof, but failed to break the ice.
To which Jaishankar retorted: "I was just tempted to say I wasn't negotiating with my wife."
Earlier in the day, Lavrov, who is probably the world's longest serving foreign minister, having held that position since 2004, had a one-on-one session with Sunjoy Joshi, the Chairman of the ORF, which co-hosts the Raisina Dialogue.
Lavrov, who apparently thrives on his reputation as a no nonsense diplomat, made a strong case defending Russia's position, but it was undermined by his less than diplomatic behaviour with his host, which some in the audience found amusing, but most others did not. And there was laughter when he accused the US of having launched a war on Russia first.
I see these three things which in different ways, the Quad can do together, and do with other countries, and I expect that they will become a greater part of our (the Quad's) agenda.
According to Lavrov, Russia had been warning the US for over a decade that any attempt to co-opt Ukraine in to the NATO fold would have consequences, but it wasn't taken seriously. He also insisted that the Minsk agreements which called for limited autonomy for pro-Russian provinces in the eastern parts of Ukraine were ploys to keep Moscow distracted while the west continued to arm Ukraine.
Even Ukraine's president, Volodymyr Oleksandrovych Zelensky, had admitted that "we needed the Minsk agreements to buy some time to get more and more weapons to Ukraine," Lavrov claimed.
"It was very very astonishing that all those who signed the Minsk agreements, except Putin, publicly admitted that they never intended to implement this particular Security Council resolution. So no delivery on the oral commitments. No delivery on written commitments, on legally binding commitments," he said. And meanwhile, this "was accompanied by NATO instructors beefing up Ukrainian Army, Ukraine getting more and more weapons," he said.
According to him, the Minsk agreement was "about the special status for a small part of the east of Ukraine, much smaller than the territory which is now controlled by the Russian army.
So when the western powers reneged on this agreement, "…we defended our security. We defended the Russian people who had been denied the right to use the Russian language in education, in media, in culture, in everything. If you check the Ukrainian legislation passed after the coup Zelensky brought to power, his neo-Nazi regime legally cancelled everything that has to do with the Russian language. And when the people who did not accept the coup in the east of Ukraine, and Crimea, said, 'guys, leave us alone. We're not going through with your policies,' they were declared terrorists. It is the (Zelensky) regime that started the war."
Accusing the US of bullying smaller nations to support the sanctions against Moscow, he said that if any of these nations dared ask what was in it for them, "the answer from the Americans is you would not be punished! When they persuaded people to vote in the general assembly against Russia, the arguments are very straight. Don't forget that you have a bank account at such and such (American) bank, and don't forget that your kids go to Stanford."
He also wondered why Russia was being asked when it would stop the war, he asked: Did anyone ask the same question to the US or NATO "when Serbia was bombed? When Joe Biden, a senator at that time, boasted that 'I promoted this approach and I believe that we have to bomb them out into peace'? When Iraq was ruined after Colin Powell showed a vial with some powder? And later Tony Blair said, yes, it was a mistake, what to do? No."
In an extremely patronising and sarcastic tone, he told ORF Chairman Joshi: "If you are really interested in politics and in the root causes of this particular situation, then you would know that (US secretary of state) Blinken, (NATO Secretary General Jen) Stoltenberg have repeatedly stated that Russia must be defeated on the battlefield. That Russia must suffer strategically."
"Everybody is asking when Russia is ready to negotiate, yet the West is continuously saying that it is not time to negotiate yet because Ukraine must win in the battlefield. Nobody calls on Zelinski asking when he is going to negotiate," said Lavrov.
Responding to a question from the audience about what the growing Russia China alliance meant for India, Lavrov said the two were not either-or relationships, and that the relationship with India was "special and privileged strategic partnership," and "I don't know whether any other country has the same status on paper officially with our Indian friends but this is what we believe is reflecting the reality, be it economy, technology, military cooperation, military-technical cooperation cultural, humanitarian and educational ties." ( However, Indian opposition leader Shashi Tharoor remarked later that "A Russia that looks more like a junior partner of China will be less useful to India.")
As for China, that was another ancient civilisation with whom Russia has long-standing relations, and "and we are interested in these two great Nations to be friends and we're trying to be helpful," Lavrov declared.
"We never we never engage in playing any country against any other country," he asserted. "And this is unfortunately what is being tried by some other outside players in the context of so-called Pacific strategies, in the context of using the Quad, not for economic purposes, but trying to militarize Quad, the idea promoted by our American friends, of ASEAN plus Quad, is openly aimed at ruining The East Asia Summits."
This accusation had been vehemently denied earlier that day by all four foreign ministers of the Quadrilateral Security Grouping, better known as the Quad, who joined a panel discussion titled "The Quad Squad: Power and Purpose of the Polygon" at the Raisina Dialogue soon after a breakfast meeting.
All four — US Secretary of State Antony J. Blinken, Japan and Australia's Ministers for Foreign Affairs Hayashi Yoshimasa and Penny Wong, and India's Minister of External Affairs, Dr S. Jaishankar – insisted that Quad is a force of global and regional good, and reiterated that the idea behind it was to connect and help develop countries in the Indo-Pacific region, and that it was not a security grouping aimed at any particular country.
Directly asked whether this grouping was anti-China in nature, Yoshimasa said that "this is not military but just practical cooperation, It is an open dialogue," and therefore, "as long as even China abides by the laws and international norms, and also acts under the international institutions, standards and laws, then this is not a conflicting issue between China and the Quad."
According to him, "This is a band like The Beatles, where the member is fixed. And they always played together for 10 years. But this is more of a soft group, so that even within the Beatles, Paul McCartney could release an album solo."
The Quad is not a military group, agreed Blinken, but a 'critical vehicle of engagement', that aims to offer positive choices, and work together in practical areas through various bilateral and multilateral frameworks by bringing together leading academics, intellectuals, technology and policy experts and other stakeholders from the region in order to However, he said, "We are ensuring that we are fit for purpose for any challenges which are emerging or may emerge," he said.
Hailing India as a vital power in the Indo-Pacific, Australian Foreign minister Penny Wong said that "there is no reshaping of the Indo-Pacific without India. We've seen that India is a civilisational power that brings a different perspective to some of the challenges of these times.
"We are interested in a stable, secure and prosperous Indo-Pacific. Quad's focus and our engagement with the Pacific Island countries are aligned with Australia's interests," Wong said, adding that the Quad was a "lighthouse," which "enables choices by these countries working for a region…by virtue of the practical work that we seek to do together."
According to Dr Jaishankar, after initial hiccups, the Quad was working successfully today due to the changed world order. "We also have greater strategic clarity. We have leaders who are now less encumbered by the baggage of the past. Our origins are in common good and there is an innate virtue in Quad's existence," he said.
According to him, the three big issues in the world were more reliable and resilient supply chains, trust and transparency when it comes to technologies, and uncreasing connectivity. "There are three big issues that the world, and the Quad, needs to address," he said. "I see these three things which in different ways, the Quad can do together, and do with other countries, and I expect that they will become a greater part of our (the Quad's) agenda."
At a breakfast meeting of the Quad ministers earlier in the day, it was decided to establish a Quad Working Group on Counter-Terrorism to explore cooperation among the Quad members as well with other Indo-Pacific nations, to counter new and emerging forms of terrorism, radicalization and violent extremism, he said.
"Our meeting today reaffirms the Quad's steadfast commitment to supporting a free and open Indo-Pacific, which is inclusive and resilient," said a joint statement released after the breakfast meeting. Without naming China, it said that "We strongly support the principles of freedom, rule of law, sovereignty and territorial integrity, peaceful settlement of disputes without resorting to threat or use of force and freedom of navigation and overflight, and oppose any unilateral attempt to change the status quo, all of which are essential to the peace, stability and prosperity of the Indo-Pacific region and beyond."
Others who threw in their lot behind a free and open Indo-Pacific region at various other events at the dialogue included India's Chief of Naval Staff, Adm. R. Hari Kumar, US INDOPACOM Commander Adm. John C. Aquilino, Australia's Chief of the Defence Force, Gen. Angus Campbell, Commander, Royal Canadian Navy, Vice Adm. Angus Topshee, Head of Foreign Relations, French Navy,Vice Adm. Christophe Lucas, Chief of Joint Staff of the Japan Self-Defense Forces, Gen. Koji Yamazaki, Adm. UK's First Sea Lord and Chief of Naval Staff, Sir Ben Key.
Rate this Article