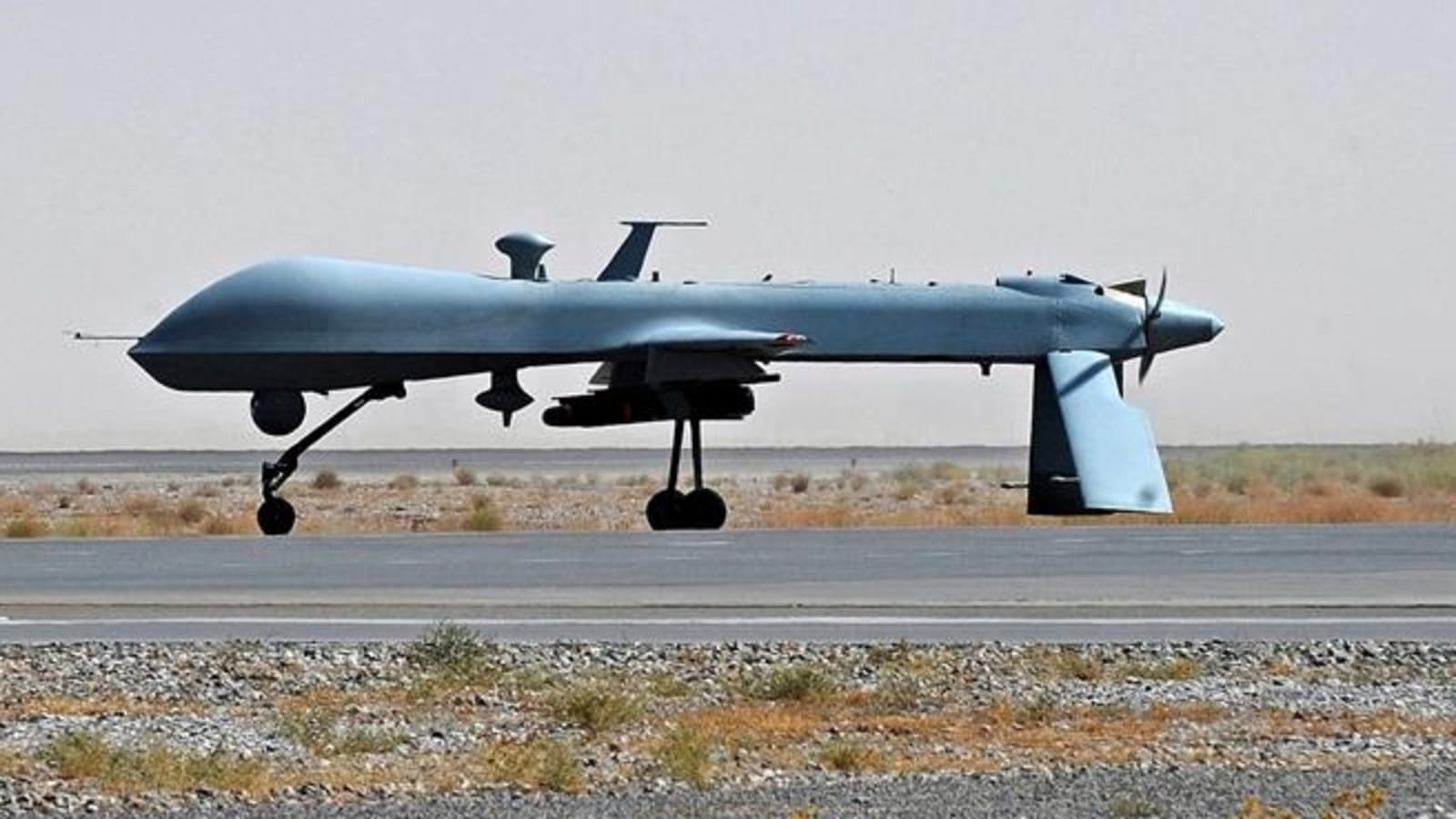 In an era characterised by rapidly evolving security threats, advanced military technologies have become paramount for nations to safeguard their interests. One such technology, the MQ-9B Reaper Drone, has revolutionised the field of unmanned aerial vehicles (UAVs) and is increasingly sought after by many nations for its diverse applications in surveillance, intelligence gathering, and precision strikes. In the case of India, the acquisition of the MQ-9B Reaper Drone holds significant geopolitical implications, ranging from bolstering its defence capabilities to enhancing its regional influence. This issue delves into the multifaceted geopolitical consequences of India's acquisition of the MQ-9B Reaper Drone, highlighting its potential to reshape India's defence posture and regional dynamics.
Groundwork
The MQ-9Bs, which will be built in India, would improve the Intelligence, Surveillance, and Reconnaissance (ISR) capabilities of India's armed forces across domains, according to the joint statement, which provided more information on the nature of the procurement. In support of India's long-term objectives to strengthen its domestic defence capabilities, General Atomics will also develop a Comprehensive Global Maintenance, repair, and Overhaul (MRO) facility in India as part of this plan.
The Acceptance of Need (AON), the first step in the procurement process, was granted by the Defence Acquisition Council (DAC), presided over by Defence Minister Rajnath Singh, on June 15. The sale will be carried out through the U.S. government's Foreign Military Sales (FMS) channel. The AON mentioned the $3,072 million anticipated cost. However, once the US Government has approved the programme, the price will be negotiated. The MoD will contrast the procurement costs with General Atomics best price for other nations.
This prepares the ground for the purchase of 31 of these armed UAVs: eight apiece for the Indian Army and Air Force and 15 Sea Guardians for the Indian Navy.
Enhanced Defence Capabilities
The MQ-9B Reaper Drone's advanced features, including long-range endurance, high-resolution sensors, and precision strike capabilities, offer India a substantial boost in its defence capabilities. The ability to conduct intelligence, surveillance, and reconnaissance (ISR) missions over vast areas enables Indian forces to monitor its borders and its sea more effectively, counter cross-border infiltration in the region of Kashmir, and respond swiftly to security threats. Moreover, the Reaper Drone's ability to detect and engage targets with precision strikes significantly strengthens India's deterrence against potential adversaries. This enhanced defence capability fosters stability in the region and reinforces India's position as a responsible regional power.
Border Security and Counterterrorism
India shares complex and sensitive borders with several neighbouring countries, making border security a critical concern. The MQ-9B Reaper Drone's advanced surveillance capabilities, including its ability to cover large areas for extended periods, provide invaluable support in monitoring and securing India's borders. The drone's real-time intelligence gathering and high-resolution imagery aid in detecting and preventing infiltration, smuggling, and illicit activities. With these drones in their inventory, India can gather valuable information about Chinese military activities along their shared border, in disputed regions such as Arunachal Pradesh, and in regions with porous borders. The MQ-9Bs can offer continuous surveillance for the Army and Air Force, looking far beyond the boundaries, the movement of Chinese military construction, and troop movement along the Line of Actual Control (LAC) and within. The MQ-9B's multi-domain mission set is expanded by its seamless integration with other U.S.-origin systems operated by India, including the P-8Is, AH-64 Apache attack helicopters, and MH-60R multi-role helicopters. By bolstering border security, India can effectively combat transnational threats such as terrorism, insurgency, and organised crime, thereby fostering regional stability mainly along the lines of Pakistan.
Maritime Surveillance and Sea Control/Sea Denial
The Indian Navy is interested in these UAVs primarily for this reason since they greatly reduce the wear and tear on manned aircraft, including its fleet of 12 P-8I long-range maritime patrol aircraft, and crew weariness when monitoring the vast length of the Indian Ocean Region and beyond. India, as a key maritime nation, faces multiple security challenges in its vast maritime domain. The MQ-9B Reaper Drone's extensive range and endurance enable India to conduct maritime surveillance, monitor shipping lanes, and counter piracy effectively. With a robust drone fleet, India can enhance its situational awareness, protect its maritime interests, and contribute to maintaining secure and open sea routes, thus strengthening its position as a regional stabilising force. Additionally, the Reaper Drone's capacity for sea denial against Chinese aggression in the sea can provide India with the ability of sea control and respond swiftly to emerging maritime security challenges, thereby augmenting its influence and credibility in the region.
Regional Influence and Strategic Partnerships
India's acquisition of the MQ-9B Reaper Drone also holds implications for its regional influence and strategic partnerships. Where India is trying to provide regional solutions to regional problems, the acquisition of General Atomics Tech will certainly prove handy. The advanced technology and capabilities showcased by the drone serve as a demonstration of India's commitment to modernising its armed forces and maintaining a credible defence posture. This, in turn, enhances India's attractiveness as a strategic partner for other countries seeking to strengthen their defence capabilities. The MQ-9B Reaper Drone can serve as a catalyst for collaborations, joint training exercises, and defence partnerships, enabling India to deepen its regional ties and expand its sphere of influence.
India's acquisition of MQ-9B Reaper Drones also has implications for its strategic partnerships. By showcasing its commitment to modernising its defence capabilities, India strengthens its position as a reliable ally for countries seeking to collaborate on defence and security matters. The advanced technology of the MQ-9B Reaper Drones enhances India's interoperability with partner nations, facilitating joint military exercises and intelligence sharing.
Takeaway
India's acquisition of the MQ-9B Reaper Drone brings forth numerous defence and geopolitical implications, and all the cards are in India's favour. The drone's advanced capabilities empower India to enhance its defence capabilities, border security, counterterrorism efforts, and maritime surveillance. By leveraging this technology, India can project power and stabilise the region while also expanding its strategic partnerships. As India continues to strengthen its armed forces and modernise its defence infrastructure, the MQ-9B Reaper Drone emerges as a valuable asset that could reshape India's defence posture and regional dynamics. This trade signifies a strengthening defence partnership between the US and India. As both countries share concerns about China's growing influence in the Indo-Pacific region, this collaboration could serve as a deterrent against any aggressive actions by China.
Rate this Article