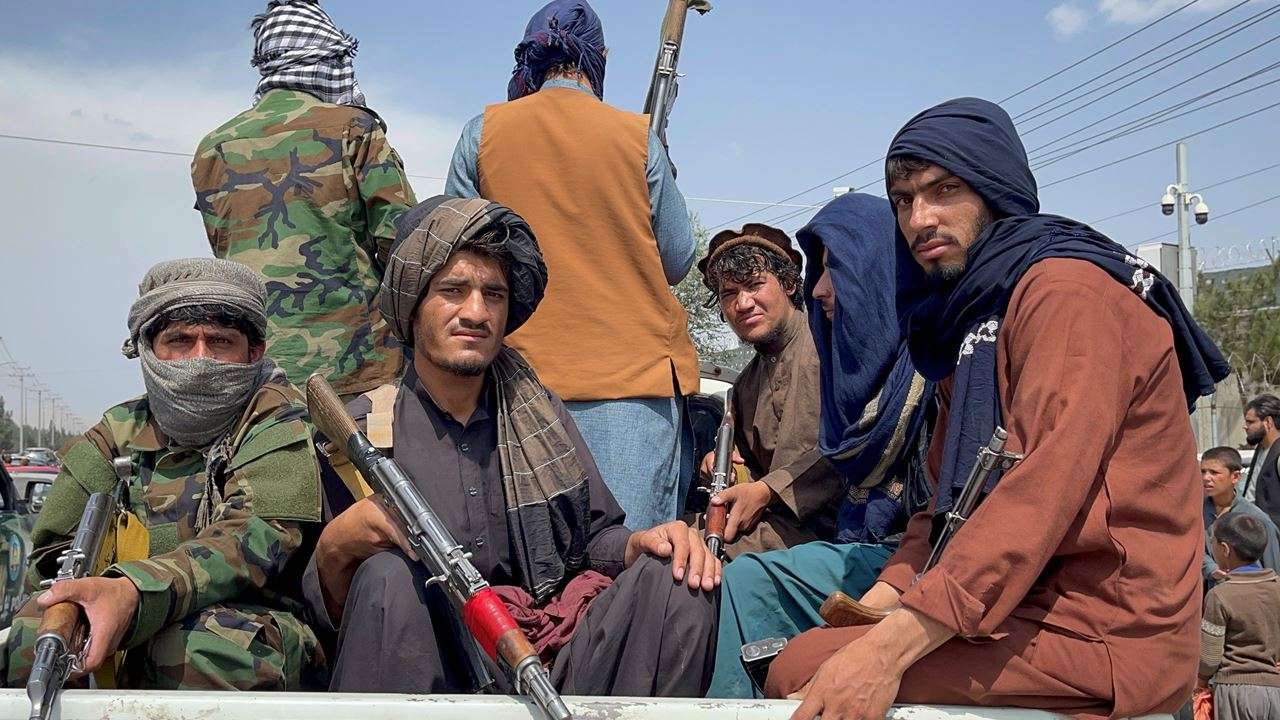 The Taliban claimed on September 6 that they have captured Panjshir Valley and overcome the anti-Taliban forces of the National Resistance Front of Afghanistan (NRFA) led by Ahmad Massoud. The 150 km long Panjshir Valley is a strip of land surrounded on three sides by towering mountains with only one narrow route leading to the south toward Kabul which had held out during the Soviet occupation of Afghanistan.
On September 2, Igor Yamshchikov, Chairman of the Russian Union of Afghanistan Veterans was sure Taliban will not be able to capture Panjshir. He said, "We fought there, I know how everything that happens there. You have to understand that Panjshir is a separate planet on the planet Afghanistan. At most the Taliban will go there for 2-3 kilometers, jerk, and that's where it's all over. There simply people will lie down with their bodies under the armored personnel carriers. And you cannot take them with helicopters, because there are so many weapons, the guys have already accumulated mountains of weapons. The Taliban will not have enough people, no strength, no equipment'.
Sure enough, the Taliban encountered tough resistance suffering hundreds of casualties in their attacks. But then news emerged that five out of the seven districts of Panjshir had fallen to the Taliban with Pakistan army and ISI leading the Taliban offensive. This was followed by reports of full scale Pakistani invasion of Panjshir with Pakistani Mi-17 helicopters rapidly moving troops, commanders and Taliban officials to various parts of Panjshir Valley after a series of Pakistani drone and commando strikes which shifted the balance in favour of the Talban. Former Afghan MP Zia Arianjad was quoted in media saying that Pakistani drones bombed Panjshir using smart bombs and also airdropped Special Forces to fight alongside Taliban in Panjshir.
Ahmad Massoud tweeted: "The Taliban are not fighting with us but the Pakistan army and the ISI are leading them. The Taliban are not strong enough to compete with us but Pakistan Army is cooperating with them." The casualties suffered by the NRFA in the Pakistani offensive included the death of several top leaders of the resistance forces like NRFA spokesperson Fahim Dashty and Ahmad Massoud's nephew General Sahib Abdul Wudod Zara.
There are some reports that Amrullah Saleh has crossed over to Tajikistan but Ahmad Massoud is very much in Panjshir. Another report of September 7 states: "A-29 and AC-28 aircraft of former Afghan government air force, which had flown to Tajikistan, carried out a special operation in Panjshir tonight. Sources say ground forces also took part in the operation, killing dozens of Taliban" This may or may not be true but the NRFA resistance to Taliban will continue from sanctuaries in the towering mountains surrounding Panjshir Valley and from elsewhere.
Pakistan probably hoped that its drone strikes in Panjshir would be brushed off under the guise of plausible deniability. However, there is ample evidence of Pakistani forces having invaded Panjshir Province; presumably with the blessings of the US and China. The NRFA was always for democracy and had been calling for elections but the US (champion of democracy) had other plans. The Taliban has openly admitted Pakistan's involvement in Afghanistan and have been inviting Pakistan's foreign minister and DG ISI for consultations with latter strutting around in Kabul as a victor.
However, the Iranian Ministry of Foreign Affairs issued a strong warning to Pakistan on September 6 over its involvement in the Panjshir operation; calling the Taliban's military offensive 'truly worrying' and said it would initiate a probe into Pakistan's role in the attack. Iran's foreign ministry spokesman Saeed Khatibzadeh said, "We would like to inform our friends, and those who might make the strategic error of entering Afghanistan with different intentions, that Afghanistan is not a country which accepts the enemy or an aggressor on its soil." What will come out of the Iranian probe only time will tell but China will probably work on Tehran for going soft on Pakistan?
Following the Pakistani invasion in Panjshir, a massive rally was held in Kabul against Pakistan with protesters chanting "Pakistan leave Afghanistan" and calling Taliban the puppets of Pakistan. Latter is not surprising considering that America too has proved to be Pakistan's puppet. The Taliban fired in the air to disperse the crowd and some reporters and protesters were arrested. Interestingly, Iran's former president Mahmoud Ahmadinejad warned Islamabad that it will be haunted by its actions in "near future" in which he foresaw the Taliban threatening Pakistan's government and sovereignty. Therefore, who will be end up as the puppet and puppeteer should be visible in few months from now.
On September 5, Republican lawmaker Michael McCaul told a TV channel that six planes with Americans on board were being held "hostage" by the Taliban at the Mazar-i-Sharif airport in northern Afghanistan since many days. He also said, "We know the reason why is because the Taliban want something in exchange." This led to US Secretary of State Antony Blinken rushing to Qatar to fix the "something in exchange".
Blinken later said that Taliban is permitting individuals with proper visa to travel out of Afghanistan. Earlier reports were that many Afghan supporters on those six planes were without visa and passports – which means US has dumped them. America now says there are only 100 Americans in Afghanistan but tweets by US citizens say there are more than 500 US nationals still in Afghanistan.
China is on pigs back with its BRI acceptable to the Taliban through the Wakhan Corridor as well as extension of the CPEC. Beijing would be gearing up to subdue the Baloch fighters using the Taliban-Pakistan combo. So-called 're-education camps' for Balochis similar to for Uighurs in Xinjiang perhaps are already planned. The silver lining for Beijing is that the Taliban while talking of repression against Muslims do not mention Xinjiang and Chechnya.
Pakistan is euphoric on the Taliban victory and hopes to replicate in J&K what it has done in Panjshir, a reason why it has activated two airfields 100 km away from Srinagar. Backed by both China and the US, Imran Khan will probably smile when Prime Minister Narendra Modi speaks about Pakistani terrorism during the forthcoming UNGA meet. The Pakistani media is openly taunting India with Pakistan's most popular TV anchor hinting that the ISI and Taliban are planning something big in India.
The ISI is buoyed with Taliban spokesman Suhail Shaheen telling BBC, "As Muslims, we also have a right to raise our voice for Muslims in Kashmir, India or any other country." But despite the success of ISI's covert operations in Afghanistan, Pakistan fails to acknowledge that it is virtually impossible to fully control terrorist organizations; Taliban in instant case after America whitewashed them as apostles of peace. The US will reap its consequence in due course but Pakistan needs to acknowledge the following:
Spokesperson of Taliban Zabihullah Mujahid has publicly expressed concern over Pakistan fencing its 2,640-km border with Afghanistan along the Durand Line which Afghans never accepted; indicating Pashtun nationalism cannot be suppressed.
Increased attacks by the Tehreek-i-Taliban Pakistan (TTP) headed by Noor Wali Mehsud (alias Abu Mansoor Asim), Baloch Liberation Army (BLA) and Sindhudesh Liberation Army (SLA).
Emergence of Islamic State in the Punjab Province of Pakistan with ISIS cadres painting the walls in cities of Sialkot and Narowal with ISIS slogans and symbols.
Likelihood of the ETIM joining the TTP.
The so-called 'inclusive government' of the Taliban has come up on expected lines; Government of the Taliban, by the Taliban, for the Taliban – with designated terrorists ruling the roost. The Af-Pak region will continue to witness instability with weapons aplenty and Pashtuns numbering some 15 million in Afghanistan's 38 million population. Balance some 15 million Tajiks, 3 million Uzbeks, 3 million Hazaras and 2 million and others collectively outnumber Pashtuns 15 to 23. Pakistan, as mentioned above, will continue to be stung by multiple nationalist movements as well as the TTP and ISIS.
Finally, India should expect that following the success in Afghanistan, Pakistan's ISI will be looking to terrorize and attack not only J&K but pan-India (in conjunction China) for which it will be looking for assistance from its sleeper cells and the enemy within India. Therefore just guarding the borders will not suffice. The radical Pakistan-Taliban-Turkey nexus backed by China is a dangerous mix that will employ better equipped terrorists, mercenaries and drones. We should, therefore, be prepared for not just Pulwama-type car bombings but also CBRN terrorism.
Rate this Article