IDR Blog
Mohammad Bin Salman (MBS) Act of Retouch in the G20 Summit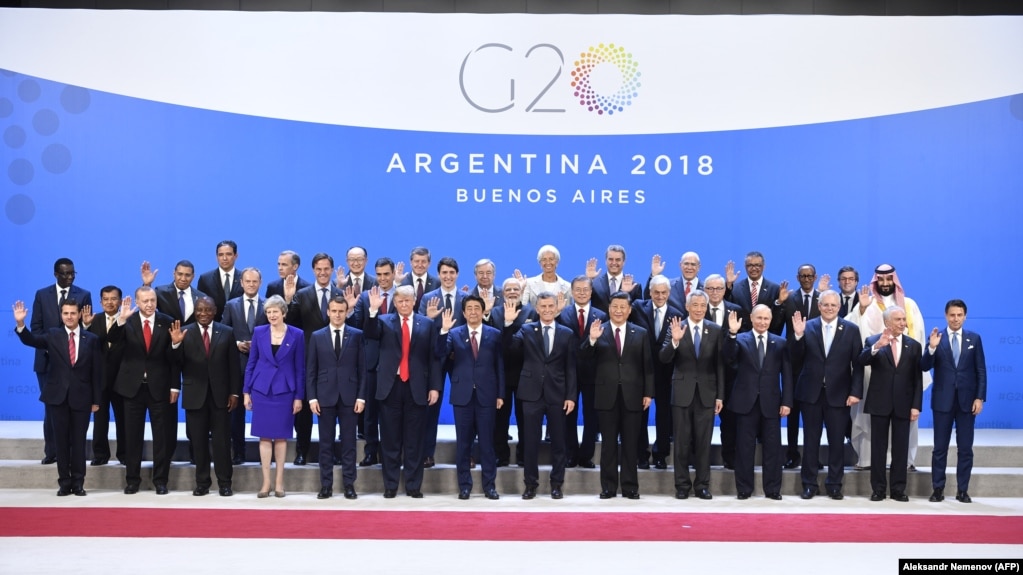 The Saudi Crown Prince Mohammed Bin Salman (MBS) attended G20 summit held in Argentina this year. He arrived in Buenos Aires after the regional tour that had taken him to his closest allies UAE, Bahrain and Egypt. The leaders of these countries expressed their firm support to MBS amid international outrage over the Khashoggi's case. In Tunisia, however, hundreds of people gathered in Habib Bourguiba to protest against his visit. Similarly, in Argentina, along with the protest, Human Rights Watch (HRW) pushed the government for an international investigation on MBS's over his alleged war crimes and Khashoggi's killing. Argentina's constitution recognizes universal jurisdiction for war crimes and torture. As a result, its judicial authorities are able to investigate and prosecute such crimes regardless of where they were committed, who carried them out or who the victims were. However, to investigate MBS, Argentina must wave off his diplomatic immunity that requires time, Supreme Court process etc. This led President Mauricio Macri to drop the investigation and assure everyone that Khashoggi's case will be briefly touched upon throughout the summit.
Crown Prince and G20: Face off with West
Since the killing of Khashoggi, Saudi Arabia has rocked its ties with the West and battered MBS' image abroad. The international communities have called for accountability of those responsible for the killing and asked the Kingdom to provide more clarity on the case. On the other side, Saudi Arabia has said that MBS had no prior knowledge of the murder and sought to put the blame on a rogue operation. However, many in the West argue that the Kingdom needs to be held accountable, especially after Turkey[i] and CIA (Central Intelligence Agency)[ii] concluded their investigation by stating that MBS ordered Khashoggi's assassination. However, President Donald Trump is insisting that there is no definitive proof against MBS and that the US economic relationship with Saudi Arabia are more important than a strong response to the murder of a journalist.[iii]
According to the Stockholm International Peace Research Institute's annual arms trade report, Saudi Arabia is the world's third-biggest purchaser of weapon, two-thirds of which are supplied by the US.[iv] Thus, halting arms sales could have serious economic implications for the American defence industries. Moreover, it will certainly push Saudi Arabia to look for alternatives, like Turkey who knocked the Russian doorstep for the supply of sophisticated weapons, an unsolicited development for the US. Most importantly, Saudi Arabia is also a strategically crucial ally for the US in continuing its fight against Iran and to counter the already growing role of Chinese and Russian influence in West Asia. All these factors could be the vital reason for Trump's unwillingness to penalize Saudi Arabia for its felony.
Trump's strong stance for MBS did not only echoed in the House of Senate while debating on freezing US arms supply to the Saudi's, but also at the G20 summit when they exchanged pleasantries during leader's session. Although the White House, in a press briefing claimed that Trump is not planning a formal meeting with the MBS at the summit, they were seen having a brief interaction.[v] While Trump, later on, claimed that no discussion took place between him and MBS, in a heavy statement he said that "it did not matter whether Prince Mohammed knew about Khashoggi's death, Saudi Arabia is important for business."[vi]
Unlike Trump, Chinese President Xi Jinping and Russian President Vladimir Putin were quite upfront in expressing their support to MBS at the summit. While Putin was seen exchanging a hearty high-five, Xi seems to have taken a strategic high-view and long-term perspective. MBS and Xi discussed ways and means to further boost their partnership at the sideline of the summit. [vii][viii] Both Russia and China did not mention the Khashoggi affair or the ongoing conflict in Yemen, where Saudi Arabia is playing a major role. Until the UK Prime Minister, Theresa May in a bilateral talk stressed the importance of ensuring those responsible for the appalling murder of Jamal Khashoggi are held an account while cautioning MBS that "such a deplorable incident" must not happen again.
According to SIPRI's report on the global weapons trade covering the last five-year period, UK is the second largest weapon[ix] supplier to Saudi Arabia. And it has been criticized by several human rights organisations who demand the UK to freeze its arms deal. However, similar to the Chinese, May is looking at the long-term economic partnership with the Kingdom that would benefit the UK post-Brexit phase. As a result, May did not speak aloud on Yemen conflict during her meet with MBS at the summit.
Apart from May, French President Emmanuel Macron also expressed his concern to MBS over Khashoggi's case. He firmly advised MBS to find a political solution for the situation in Yemen. It appears that along with UK and France, US to hopes for MBS to come out clean and move past the Khashoggi's affair in order to continue their normal business in the global forum. Although France has officially enacted sanctions on the 18 Saudi citizens, linked to the murder and has warned that more could follow depending on the result of the investigation, it seems to be very unlikely. Saudi Arabia is France's largest market in the Middle East, even without the arms sales.[x][xi] Further sanctions could affect France's relationship with the Kingdom who in return might boycott their trade and investment for getting themselves too much involved their internal affair as they did in the case of Canada.
Speaking of Canada, Prime Minister Justin Trudeau was the only leader to use the G20 summit as an opportunity to discuss the issues along with the ongoing imprisonment of Raif Badawi that created a diplomatic discord between both the countries. The Saudi government is extraordinarily sensitive to Raif Badawi case. Last time Canada pressed MBS to release Samar Badawi (the sister), he responded furiously by expelling Canada's ambassadors, flights, trade, investment and called off Saudi students to return. While many governments in the Arab world sided with the Saudi's, the West saw this as a message from the Kingdom to not lecture them on human rights. Yet, Trudeau's approach to MBS at the summit and his push for a better answer on the Khashoggi's case shows us that Canada is likely to continue its diplomatic pressure on Saudi Arabia when it comes to human rights, dismissing economic interest.[xii]
Overall, it seems that for MBS, G20 event was filled with face-offs, pestering, investment as well as implicit and explicit support from the leaders of the West. However, his hope to encounter Turkish President Recep Tayyip Erdogan remained unfulfilled. Turkish Foreign Minister Mevult Cavusolgu, on behalf of Erdogan, stated that at present there is no reason to meet with MBS.[xiii] Yet, to the press, Erdogan stated that Khashoggi's case is not only an issue of Turkey but of the whole world and repeated his call on the Saudi Arabian leadership for a full-pledged investigation while underlining no particular intention to damage the image of the Saudi royal family.[xiv] It appears that Erdogan intends to continue irking MBS by keeping Khashoggi's affair alive via further leaks to the media. As the body is yet to be located, Turkey's speculation could go on for a while.
Indian Perspective
The most interesting aspect of G20 was Prime Minister Narendra Modi's outreach to Saudi Arabia when he decided to ignore global opprobrium directed at MBS and met him at his residence. Modi's focus during the meeting was clear: New Delhi is seeking investment and MBS assured him that the Kingdom would significantly scale up its outlays in India, especially in the field of infrastructure, technology and agriculture.[xv] While investment formed a specific part of the discussion, Modi's real motivation was to ensure a modicum of stability in energy prices as India heads to the general election in a few months. Saudi Arabia is the world's biggest crude oil supplier and meets growing energy demands at a time of great volatility in the oil market.
Modi's willingness to do a little trade-off between idealism and realism to secure the deal, yet again proves that the primary business of India's foreign policy is to advance and protect national interest only in terms of the familiar duo of security and geopolitical strategy, physical security related interest on one hand and trade, investment and prosperity related interest on the other hand. While it is not always fair to ignore moral considerations that often limits or constrains the pursuit of national interest, it is widely assumed rational, inevitable even for the policymakers to act to maximize the satisfaction of their state preferences and economic goals.
Conclusion
The ongoing Khashoggi's affair also seems to have highlighted the historic tension between the Kingdom and the Western values and interests. Without values as a guide, most of the Western countries, especially the US would lose its unique attraction as a global power. On the other hand, values alone would not help the countries to sustain for a prolonged period. Economic development and opportunities are equally important. And Saudi Arabia is one of the growing economic hubs which is entering its post-oil-era that provides lots of potential and opportunities to the foreign countries in terms of business and investment. While China and Russia see this as a chance to strengthen its already growing influence in West Asia, the Western countries like the US might fumble considering values that coincide with economic preference. They will manage to push the Saudis to amends the past and adhere to the human rights framework in order to secure its wider interest. Under this pretext, one can say that when it comes to a clash between self-interest and values, not only the US but also Russia, China and India have no compunctions in anchoring their foreign policy in realism.
References
[i]Nytimes.com. (2018). 'Tell Your Boss': Recording Is Seen to Link Saudi Crown Prince More Strongly to Khashoggi Killing. [online] Available at: https://www.nytimes.com/2018/11/12/world/middleeast/jamal-khashoggi-killing-saudi-arabia.html [Accessed 8 Dec. 2018].
[ii]Harris, S., Miller, G. and Dawsey, J. (2018). CIA concludes Saudi crown prince ordered Jamal Khashoggi's assassination. [online] The Washington Post. Available at: https://www.washingtonpost.com/world/national-security/cia-concludes-saudi-crown-prince-ordered-jamal-khashoggis-assassination/2018/11/16/98c89fe6-e9b2-11e8-a939-9469f1166f9d_story.html?noredirect=on&utm_term=.1a23e08d0964 [Accessed 8 Dec. 2018].
[iii]Kitv.com. (2018). Senate set to rebuke White House's handling of Saudi Arabia after Khashoggi murder. [online] Available at: https://www.kitv.com/story/39602624/senate-set-to-rebuke-white-houses-handling-of-saudi-arabia-after-khashoggi-murder [Accessed 8 Dec. 2018].
[iv]The New Indian Express. (2018). Saudi Arabia: World's third largest weapons buyer with US as its top supplier. [online] Available at: http://www.newindianexpress.com/world/2018/oct/23/saudi-arabia-worlds-third-largest-weapons-buyer-with-us-as-its-top-supplier-1888682.html [Accessed 8 Dec. 2018].
[v]Mail Online. (2018). Trump had G20 encounter with Saudi prince linked to Khashoggi murder. [online] Available at: https://www.dailymail.co.uk/news/article-6447775/Trump-DID-G20-encounter-Saudi-prince-linked-Khashoggi-murder.html [Accessed 8 Dec. 2018].
[vi]Timesofisrael.com. (2018). World leaders welcome Saudi prince at G20, showing he's not isolated. [online] Available at: https://www.timesofisrael.com/world-leaders-welcome-saudi-prince-at-g20-avoiding-isolation/ [Accessed 8 Dec. 2018].
[vii]South China Morning Post. (2018). Xi offers support to embattled Saudi crown prince. [online] Available at: https://www.scmp.com/news/china/diplomacy/article/2175920/chinese-president-xi-jinping-offers-support-saudi-crown-prince [Accessed 8 Dec. 2018].
[viii] In the past two years, Saudi Arabia has surpassed Russia as a top exporter of crude oil to China. Also, the kingdom is now seems set to expand its market share as new Chinese economic reforms have increased its demand for crude oil.
[ix] UK exports 23 per cent of arms and weapons to Saudi Arabia
[x] France is the third largest arm sales to Saudi Arabia. It exports 3.6 Percent of arms and weapon.
[xi] According to French economy ministry data, their export to the Gulf nation were totaled almost 4billion euros ($4.61billion) from September 2017 to August 2018 itself. This figure does not include deals with French firms worth $12 billion that Saudi state-oil giant Aramco's announced in April, including a $5 billion petrochemicals complex with oil giant Total.
[xii]CBC. (2018). Trudeau tells Mohammed bin Salman Canada will 'always stand up strongly' for human rights | CBC News. [online] Available at: https://www.cbc.ca/news/politics/trudeau-putin-salman-g20-1.4928996 [Accessed 8 Dec. 2018].
[xiii]Aljazeera.com. (2018). Saudi Crown Prince Mohammed requested to meet Erdogan: Turkish FM. [online] Available at: https://www.aljazeera.com/news/2018/11/saudi-crown-prince-mohammed-requested-meet-erdogan-turkish-fm-181127090855327.html [Accessed 9 Dec. 2018].
[xiv]Hürriyet Daily News. (2018). Turkey says Khashoggi murder a 'world issue' – Turkey News. [online] Available at: http://www.hurriyetdailynews.com/turkey-says-khashoggi-murder-a-world-issue-139365 [Accessed 9 Dec. 2018].
[xv]NDTV.com. (2018). Saudi Arabia Offers To Supply Oil To India On Sidelines Of G20 Summit. [online] Available at: https://www.ndtv.com/india-news/g20-summit-2018-argentina-saudi-arabia-prince-mohammed-bin-salman-offers-to-supply-oil-to-india-on-s-1956042 [Accessed 10 Dec. 2018].
Courtesy: http://www.claws.in/1960/mohammad-bin-salman-mbs-act-of-retouch-in-the-g20-summit-nagapushpa-devendra.html
Rate this Article
Post your Comment